Mosquito population swells in Washtenaw County after rainy spring and heat wave
Posted on Sat, Jun 11, 2011 : 5:59 a.m.
A June heat wave and a blitz of storms in late May that left standing water and muddy conditions throughout Washtenaw County have combined to create a "perfect storm" for summer mosquitoes, experts say.
Michigan has 60 species of mosquitoes — including one that bites only frogs — but two types have capitalized on the recent extreme weather and are flourishing, said Ned Walker, a professor of microbiology and entomology at Michigan State University.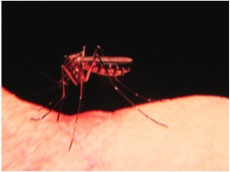 Courtesy of Ned Walker
"It's been a perfect storm for mosquitoes," Walker said. "We don't see this kind of mix every spring."
Mixing up the spring mosquito scene are floodplain mosquitoes, which do not make an appearance every year, Walker said. They lay eggs during especially wet weather in water systems' floodplains. Eggs can live for up to 8 years waiting for extra soggy conditions to hatch.
"Once we get an extra heavy spring rainfall, they're out there and they can hatch," Walker said.
Other types of more common mosquitoes are buzzing around, too.
Summer floodwater mosquitoes like woodland pools, grassy meadows and roadside ditches. Repeat rains make conditions ripe for brood after brood. They can go strong all summer long.
Spring mosquitoes that hatch only once a year, after the snow melts, are still around, but they're dying of, said Mike Kaufman, an MSU entomology research specialist
Meanwhile, disease-carrying mosquitoes haven't yet hit their stride.
West Nile virus is still alive and well in Michigan.
Northern house mosquitoes carry the virus, which can cause meningitis or encephalitis in humans or animals. Cases of West Nile typically first occur in late June and continue through October, Walker said.
West Nile sickened two people in Washtenaw County in 2010; in Michigan, 29 were sickened and three people died from the disease last year.
Northern house mosquitoes like to rest and buzz around in the homes of humans. And they like man-made breeding grounds like sewers and abandoned swimming pools. The mosquitoes bite birds and then pass the disease to humans and other animals.
But the emerging disease of the summer could be Eastern equine encephalitis.
The disease involves an inflammation of the brain, and it killed more than 100 horses and sickened three people in Michigan in 2010.
That's the worst outbreak since 1981, Kaufman said.
A vaccine exists for horses, he said, but it's thought that economic downturns coincide with equine encephalitis outbreaks because some horse owners forgo the vaccination to save money, Kaufman said.
According to Walker, Western Washtenaw County occasionally sees a case of equine encephalitis, but health department officials said there were no cases locally in 2010. Ann Arbor is not a hot spot for the disease, though there were reports last year of infected horses and deer in rural areas of Livingston County, Kaufman said.