Think you're the king or queen of bike commuting? Find out tonight
Posted on Fri, May 18, 2012 : 11:15 a.m.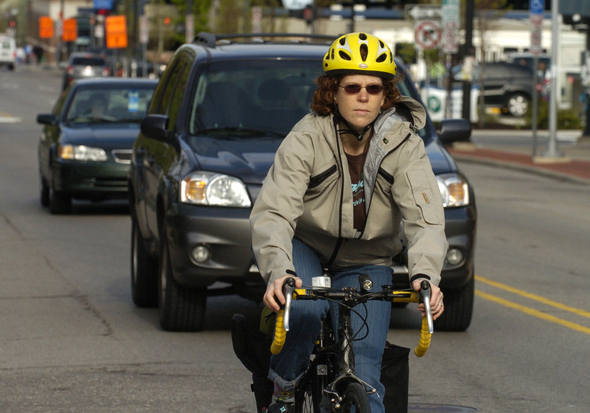 File photo | AnnArbor.com

Refreshments greeted cyclists along their commute to work today in Ann Arbor and Ypsilanti for National Bike to Work Day, but the fun isn't over yet.

The king and queen bike commuters of 2012 will be crowned tonight during a Bike Bash from 5:30 to 8 p.m. at the Ann Arbor Farmer's Market space.

The event is sponsored by the Ann Arbor Downtown Development Authority, and is a part of getDowntown's Bike to Work Week of promotional events during the month of May for the Commuter Challenge.

Winners of the contest will receive bike helmet crowns about 7 p.m. today. Pre-registration to enter the competition is required.

Five men and five women have been randomly selected to compete in three rounds: Evening gown, questions and answers about bike commuting and a talent contest.

Crafts including a "bike bling station" will give cycling enthusiasts the chance to paint their own bike bell and make a spoke card.

Ann Arbor Police Officer Kathy Vonk will give brief classes on bike commuting from 5:30 to 6 p.m. and from 6:15 to 6:45 p.m. Topics covered include choosing a bike, gear, route and basic bike maintenance.

The Washtenaw Biking and Walking Coalition will have a photo booth at the event in Ann Arbor.

The group will also be leading a bike ride to the Bike Bash, leaving about 5:15 p.m. today from Liberty Plaza.

There will be live music form Joe Reilly and Lori Fithian, as well as food and drinks from Pilar's Tamales, Silvio's Pizza, Mighty Good Coffee, Mity Nice Ice and Everyday Wines.

Discounts at area stores for Bike to Work Week will end Sunday.