Posted on
Sun, Oct 23, 2011 : 6:03 a.m.
Ann Arbor's proposed sidewalk repair millage spreads cost in more reasonable way
By Tony Dearing
Ann Arbor residents who go to the polls on Nov. 8 will be asked to renew a street repair millage of 2 mills -- which they absolutely should -- as well as to adopt a new five-year millage of 0.125 mills for a new sidewalk repair program.
The street resurfacing and reconstruction millage has been around for almost 30 years, and voters have continually renewed it. The millage generates about $9 million a year, and given the condition of our roads, it's important to continue to have that source of revenue. We think residents understand that and will renew it again.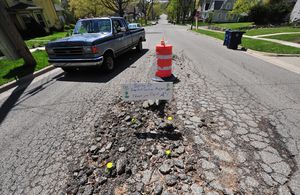 Ryan J. Stanton | AnnArbor.com
The proposal for a sidewalk repair millage
is a new approach to the city's long-standing and unpopular practice of inspecting sidewalks and requiring that residents pay the cost of repairs to the sidewalk in front of their home.
Supports of the proposed sidewalk millage say it a more fair and reasonable approach to spread the cost of sidewalk maintenance across all property owners, and we agree.
Sidewalks are, after all, a public good used by all of us. When a sidewalk is repaired, it benefits all pedestrians, not just the person whose house it sits in front of. What's more, the cause of damage to sidewalks can often be the roots of city-owned trees in the right of way, and that makes the practice of disproportionately putting the cost of repairs on a homeowner seem even less fair.
Granted, someone who paid $150 -- or in many cases, much more -- to repair the sidewalk in front of his or her home last year wouldn't be thrilled to see the city now switch to a new program this year. But if the current program puts an unfair burden on individual homeowners, this new program looks like a better deal for everyone in the future -- even those who have paid out of their own pocket in the past.
The millage would cost about $13 a year for the owner of a home valued at $214,000. That is pretty low-cost "insurance'' against the cost of even one sidewalk repair, which most homeowners would face sometime in the coming years.
This is not something the city is forcing on anyone. There's an existing program in place, unpopular though it is. If people want to turn the responsibility of repairing sidewalks over to the city in a way that recognizes them as a public resource and spreads the costs in a more reasonable and affordable way, they can approve this millage. We think it's a better approach and support its passage.
For more information on Proposal 1, the street millage, click here.
For more information on Proposal 2, the sidewalk millage, click here.
(Editor's note: This editorial was published in today's newspaper and reflects the opinion of the Editorial Board at AnnArbor.com. The four community members who serve on our Editorial Board -- Mary Kerr, David R. Lampe, Marsha Chamberlin and Kyle Poplin -- did not participate in our endorsement decisions.)