Posted on
Tue, Oct 19, 2010 : 9 a.m.
1983: Slavers arrested, Red Berenson inducted into Hall of Honor, and Hands-On Museum celebrates first birthday
By James Dickson
Editor's note: This Week in Ann Arbor History looks back at some notable moments from the city's past.
Slaveholding farmers arrested by FBI
In 1983, Ike and Margarethe Kozminski were arrested by FBI agents for enslaving two men on their farm near Chelsea.
The Kozminskis' victims "were fed spoiled food and forced to work without pay," reported Max Gates of the Ann Arbor News, and claimed to have been enslaved for at least 12 years. Gates quoted an FBI spokesman who said that there hadn't been a slavery case prosecuted in Michigan for 65 years before the 1983 case.
Robert Fulmer, 57, and Louis Molitoris, 59, were taken from the Kozminski farm in August 1983 and resettled in foster care according to the New York Times' coverage of the story.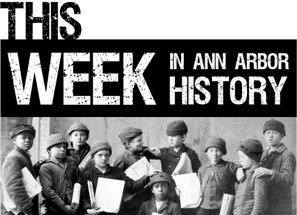 October 17—24, 2010
Margarethe was arrested near the Washtenaw County Courthouse when the Kozminskis were in town for an unrelated civil case. Ike evaded the feds that day but was caught later, and their son John was also charged in connection with the case.
A federal jury convicted the husband and wife of holding the men against their will and conspiring to do so, and John was convicted on the conspiracy charge. The case was appealed all the way to the U.S. Supreme Court, where the Kozminskis' argument, that the U.S. attorney's definition of involuntary servitude was overbroad, won the day.
Eventually they pleaded guilty to misdemeanor labor charges, according to Ross Parker's "Carving Out the Rule of Law: The History of the United States Attorney's Office in Eastern Michigan, 1815-2008."
"Michigan will always be a part of me," says former U-M icer Red Berenson
"It doesn't matter whether he's living in Montreal, Quebec City, Detroit, St. Louis or Buffalo. Red Berenson says he always feels he has a part of his alma mater with him," wrote News' sports reporter Neil Koepke as Berenson was inducted to the university's Hall of Honor 27 years ago this week.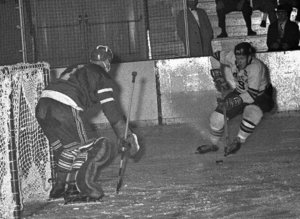 An icer on the U-M hockey teams of 1959 to 1962, Gordon "Red" Berenson, was an assistant with the Buffalo Sabres at the time of his induction.
After a successful playing career, Berenson found success as coach of the St. Louis Blues, being voted NHL Coach of the Year in 1980-81. But he was fired after a tough season in 1981-82. Berenson said he thought about leaving coaching at the time, but stuck with it.
Good thing he did. In 1984, Berenson was asked to return to Ann Arbor to restore the Michigan hockey program to glory. He's been here ever since, a 27-year tenure that includes both of Michigan hockey's NCAA titles (1996, 1998), 10 of its 18 conference titles and 20 postseason berths.
No (dummy) rifles in dorms for Naval ROTC students, U-M says
Twenty-seven years ago this week, University Housing and the Naval ROTC at U-M came to an agreement banning ceremonial rifles from U-M residence halls. The so-called "dummy" rifles lacked the inner mechanism needed for firing, the News' Ronnie DeSimone reported, but student complaints led to the change. Part of the discomfort stemmed from the lingering memories of the time two U-M students were fatally shot in Bursley Hall in April 1981.
"ROTC was very understanding of our needs," explained then-U-M Housing Director David Foulke. "The visitors and parents who would see students coming and going with guns wouldn't know the difference from a distance."
Foulke admitted that U-M had no grounds to ban the dummy rifles, since they weren't technically weapons, and the ROTC made the arrangement voluntarily. Earlier in fall 1983, Ann Arbor Police asked students in the dorms to not play "Assassin," a game in which students replicate assassinations, typically with dart guns or water balloons.
Today, guns are banned on campus as a matter of state law and university policy.
Hands-On Museum at 1
More than 25,000 people visited Ann Arbor's Hands-On Museum in its first year of operation. On this week in 1983 the museum celebrated its first birthday with six new exhibits, including "What is Archaeology?" which was donated by the university's Kelsey Museum of Archaeology.
The museum now serves almost a quarter-million people annually, between visitors and educational programs around the state; 60 percent of its audience comes from outside Washtenaw County. Mel Drumm, executive director of the museum since 2004, told AnnArbor.com that what he likes most is seeing families learning together.
"When a kid comes in and sees a cool exhibit, then their parent points out the label that says University of Michigan students put it together. It makes the kid think 'maybe I can do this too.' It's another place that makes people think highly of Ann Arbor."
The museum isn't doing anything special for its birthday, which officially passed in mid-September, but always has programs and educational outreach efforts. Drumm encouraged people who haven't visited to give it a shot.
"We're a museum for kids of all ages," Drumm said.
James David Dickson can be reached at JamesDickson@AnnArbor.com or (734) 623-2532.