Updated:

Thousands still without power in Ann Arbor area

Posted on Fri, Jul 6, 2012 : 6:04 a.m.
Related story: Extreme weather around Ann Arbor: How are you coping with storms, power outages, record temps?
More than 8,000 DTE Energy customers in Washtenaw County remain without electricity Friday morning, one day after a storm rolled through Southeast Michigan and caused damage to power lines.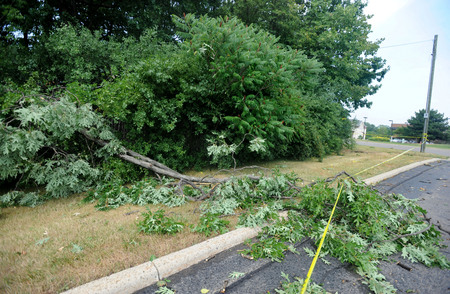 Angela Cesere | AnnArbor.com
This story was updated at 9:30 a.m.
The Ann Arbor area still has 7,367 homes without power, including 4,257 in the 48103 ZIP code. Affected areas still include the South Industrial corridor; the area near North Maple and Wagner south of Miller; and the area bordered by Ann Arbor-Saline Road, Scio Church and Wagner.
Another 1,280 customers are affected in the Ypsilanti area. Many of them are just south of I-94, with another concentration of more than 500 homes south of Ypsilanti near Whittaker and Willis roads.
Dexter and Chelsea each has about 200 customers without power.
DTE officials estimated on Thursday afternoon that power would be restored by 9 p.m. Saturday, and that estimate remains in effect.
Some AnnArbor.com readers reported that their power went out seemingly on its own long after the storm. DTE Spokeswoman Eileen Dixon said this is a normal occurrence after a strong storm.
"One frequent cause of these power outages is that the storm does a lot of damage to the trees that isn't immediately apparent," she said. "You frequently see limbs falling well after the fact because they've been damaged in the storm."
Dixon said that while it might seem that power is lost out of the blue, it is not DTE turning off the energy.
More than 200,000 DTE customers in Metro Detroit were affected by the storm.
DTE Energy said its crews were working 16-hour shifts and that workers who were sent to other states following storms along the East Coast have been called back. The utility said 325,000 of its customers were without power at the peak of the outages. DTE said Friday morning that about 105,000 of its customers were without power.
Most of those without electricity lost service after storms late Wednesday and Thursday, with more than 1,000 of its power lines down. Reports of downed wires were still coming in Thursday night, DTE spokesman Alejandro Bodipo-Memba said.
"Everybody is being hit throughout the Midwest and East," Bodipo-Memba said. "We don't expect to get any reciprocating help at this time because everybody is hit and struggling.
"If you have available manpower, that's when you're able to help."
Friday's forecast calls for a chance of more thunderstorms and a high of 102.
The Associated Press contributed to this report.