Posted on
Sat, Apr 24, 2010 : 7:30 p.m.
Thousands take advantage of free electronics recycling on Consumer Electronics Day
By Ann Dwyer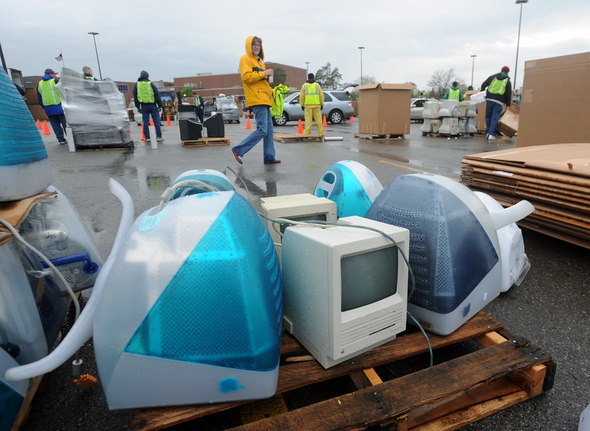 Lon Horwedel | AnnArbor.com
Yesterday's high-tech gadgets are today's trash.
That was plain on Saturday when hundreds of cars queued up in the parking lot at Pioneer High School over several hours as people dropped off old monitors, computers, TVs and other electronics to be recycled.
The University of Michigan organized the Consumer Electronics Day and gave residents in the area a chance to dump their old electronics in an environmentally responsible manner. Best of all, it was free.
The annual event is co-sponsored by Apple and the university. Apple pays for the vehicles to haul away the equipment and the recycling costs, while the university pays for advertising and other organizational details.
The recycling program is part of an agreement, formerly called Climate Savers, that U-M has with Apple.
Recycling electronics isn't cheap. Taking items such as computer monitors to a recycling facility can cost roughly $40, said Andy Berki, the manager of the university's Office of Campus Sustainability.
Businesses and schools are required by law to recycle their electronic equipment.
And for the everyday consumer, tossing out a TV or computer in the trash is not an environmentally responsible option. Most of these items have a warning on them stating that they can not be thrown out as garbage because they contain components that are not safe in landfills.
The university had a separate collection day for businesses and schools so that they could get residents in and out quickly for Saturday's Consumer Electronics Day. Volunteers aimed at getting residents through the line within five minutes. They needed to work quickly as more 2,800 people came to take advantage of the service.
Once the electronics are dropped off, they are sent to a facility in the United States where they are taken apart. The plastic gets turned into items such as fencing, the circuit boards are used to make other circuit boards, and the glass is ground down and may end up in asphalt to make roads.
The service became an extension of the university's own recycling program. It was started four years ago and has become very popular as more people find too many old or worn out electronics taking up space.
"It's been a huge hit," Berki said.