Posted on
Sat, Aug 31, 2013 : 6 p.m.
Humane Society rescues 3 dogs, including puppy, from garage
By Lisa Carolin
Three dogs, including a puppy, are recovering after someone abandoned them in a garage in Ypsilanti Township, the Humane Society of Huron Valley said.
A pit bull puppy, an adult pit bull, and an adult terrier mix were discovered on Thursday when an employee from the local water department was called to turn off the water because no one was living in the home.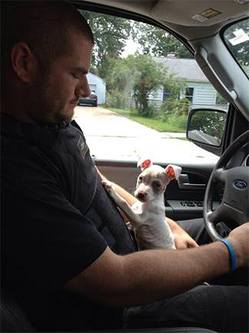 Humane Society of Huron Valley photo
The humane society was contacted and found that the three dogs were all emaciated and dehydrated and were living in unsanitary conditions.
"All three dogs were surrendered to the Humane Society," said Matt Schaecher, cruelty investigator. "They are feeling much better now that they've been given food, water and medical care."
Schaecher said that the Humane Society will be submitting a report to the Washtenaw County prosecutor's office seeking charges of animal cruelty.
Schaecher said anyone who is having difficulty caring for an animal can call the humane society for assistance.
"The Humane Society does everything we possibly can for animals to be able to stay in their homes," Schaecher said. "We have programs to help people take care of animals and offer supplemental food."
Once the rescued dogs are in good health, they will be available for adoption, Schaecher said.
For more information on the Humane Society's Cruelty Rescue program, visit the agency's website.