Posted on
Wed, Jun 13, 2012 : 5:44 p.m.
Three falcon chicks in rehab after dropping from nest atop University Hospital
By Kellie Woodhouse
Three of the four newly hatched peregrine falcon chicks that live atop University of Michigan Hospital are in rehab after dropping from their nest onto a landing above the second floor of the hospital.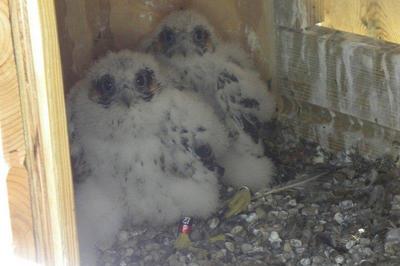 Photo courtesy of Barb Baldinger.
The chicks appear to be unharmed but are in rehab so specialists can help them develop flying muscles, said
Michigan Department of Natural Resources
Specialist
Christine Becher
.
"The birds went down," explained Becher, using the term 'grounded.' "As the chicks start aging they flap their wings a lot throughout the day exercising and building up their flight muscles.
"As they're flapping occasionally they become airborne, not meaning to," Becher continued. "They're strong enough to lift, but not strong enough to maintain the flight."
After launching themselves into accidental flight, the peregrine falcons fell onto a window-lined ledge underneath their nest box. Because their wings haven't matured, the chicks weren't able to lift themselves and fly back to their nest.
Now they're at rehab and specialists are working with them to increase muscle strength so the falcons can learn to fly successfully. After rehab, the birds will be reunited with their parents and other sibling, Becher said.
The fourth chick did not fall and is still living with its parents, two full-grown peregrine falcons, in the nest box atop the hospital.
The chicks hatched May 2.
After a contest on its Facebook page, U-M announced this week that it was naming the chicks Bo, Fritz, Lloyd and Yost after famous head football coaches Bo Schembechler, Herbert "Fritz" Crisler, Lloyd Carr and Fielding Yost. At this time, officials have not assigned names to the individual falcons.
Two peregrines have been seen around Ann Arbor since 2006, most often on Burton Tower, but they had not been successful nesting there, said Karen Cleveland, an all-bird biologist with the DNR. Cleveland said she brought a nesting box to University Hospital, where it was installed.
The birds soon set up housekeeping in the box, and last spring, hatched three chicks. One of the fledgling chicks was shot last summer.
Kellie Woodhouse covers higher education for AnnArbor.com. Reach her at kelliewoodhouse@annarbor.com or 734-623-4602 and follow her on twitter.