Posted on
Fri, Apr 29, 2011 : 2:40 p.m.
Protesters deliver petition protesting use of animals in Survival Flight training to Mary Sue Coleman's office
By Juliana Keeping
Staff in University of Michigan President Mary Sue Coleman's office got a surprise visit from a small group of protesters this afternoon.
A member of People for the Ethical Treatment of Animals and two U-M students walked into the Fleming Building, 503 Thompson S., past a front desk and toward the U-M president's office before being blocked by a staff member, who shut the door and said Coleman wasn't in.
Instead, the group delivered its message and a box containing a 100,000-signature petition to Erika Hrabec, Coleman's assistant.
PETA is waging a months-long campaign against the use of pigs and cats in U-M's survival flight training for nurses. PETA wants U-M to use human simulators, which it claims are more modern and effective, instead of animals.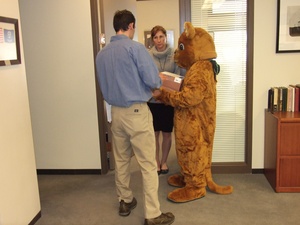 Photo by Juliana Keeping
PETA member Drew Winter, of Lansing, did the talking during the confrontation, reading a written statement to Hrabec condemning the
use of animals in the Survival Flight course
.
Graduating senior Zach Goldsmith wore a cat costume.
Akshay Verma, a U-M student and a member of U-M's Michigan Animal Rights Society, called the use of animals "archaic" after the presentation.
"I came here because I don't believe in using animals for experiments," Verma said afterward.
Winter said the signatures were gathered online and in person. He did not know how many of the signatures were from Michigan residents.
The use of live tissue trains nurses to do procedures such as insert tubes down patients' throats in difficult conditions. There is no substitute, the school says, for these and other lifesaving techniques taught in the course. The animals do not feel pain during the procedures because they are under anesthesia. Cats are adopted out, and pigs euthanized, after being used for training.
Juliana Keeping covers general assignment and health and the environment for AnnArbor.com. Reach her at julianakeeping@annarbor.com or 734-623-2528. Follow Juliana Keeping on Twitter