opinion
Three things I've learned - or relearned - during the power outage
Posted on Fri, Jul 6, 2012 : 11:25 p.m.
I woke up early Thursday morning to the crash and boom of the large storm that was passing through Ann Arbor. My first thought was excitement. I love a good thunderstorm and we've been in dire need of the rain that came with it.
But as I listened with glee to the rolling thunder and the blowing rain, it began to dawn on me that there were sounds I wasn't hearing. Where was the comforting sound of my bedroom ceiling fan? The white noise machine that lulls us to sleep? And ... gasp ... the air conditioning that makes this high temperature summer bearable?
Our household was one of the 15,000 affected by the power outage yesterday, and we're still waiting for the DTE crews to work their magic on our neighborhood. In the meantime, I've put together a list of a few things I've learned this week as we have dealt with life without power.
1. My mom really does have all the answers.
When I was growing up in a turn-of-the-century Sears kit house without air conditioning, our house was often cooler even than the homes of friends who had central air. Mom would open the house up first thing in the morning, using fans to circulate the air before the sun got too hot. Then the house would get sealed up tight. Every window was darkened, keeping the sun out and the interior cool.
We worked the same approach yesterday, using towels and tablecloths to cover up windows and doors when the blinds weren't doing a sufficient job. Our house resembled a cave. A cool, dark cave. Thanks, Mom!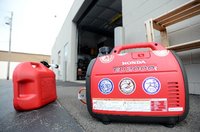 Melanie Maxwell | AnnArbor.com
2. Buying a generator in the middle of a power outage is comparable to trying to snag a flat screen TV on Black Friday.
I've never actually tried to get a loss-leader deal on Black Friday, but our experience trying to track down a generator yesterday seemed like it must be on par. First we hit Costco, where we had been ogling generators during the grand opening over the weekend. As we jogged toward the store from the parking lot, we watched several generators roll past us on carts. We picked up our pace, sprinting to the generator aisle, only to find that all of the reasonably sized and priced generators had been snapped up. All that were left were a handful of massive generators in the 4-figure price range.
I started calling home improvement stores - one hand resting possessively on the thousand-dollar generator and the other working my cell phone. I wasn't going to give up our one chance at power if I didn't have other options.
Success! There was one moderately reasonable generator left at Lowe's. I was warned that we had exactly ten minutes to get there.
"Eleven minutes from now, it's going back on the floor."
We started sprinting again.
3. We need to prepare more.
It started to hit me how unprepared we are on so many levels. After yesterday's mad scramble, we've resolved to keep flashlights, batteries and candles in one easy to access spot, not scattered across multiple boxes in various closets and basement corners. We'll keep rechargeable lanterns and flashlights charged and ready.
But on a broader level, it became too clear how reliant we are on what sometimes feels like a crumbling - or at least occasionally insufficient infrastructure. Our neighborhood group has been looking into collaborating on a solar power cooperative. We're in - we've put off making inroads into energy independence for too long.
I'll also be checking out this summer's Reskilling Festival, taking place on Sunday, July 15 at Rudolf Steiner High School (2230 Pontiac Trail). There will be workshops on everything from fire-starting to organic vegetable gardening.
Finally, it's always good to have a reason to appreciate what you've got. We lost power for two days in 100-plus-degree heat, and that has been a pain in the neck. But we've got food to eat, clean water and a roof over our heads. No one is shooting at us. And as soon as the DTE trucks make their way to our neighborhood again, we'll have lights, computers to connect us with friends across the globe, and sweet sweet air conditioning. We're some of the luckiest people on the planet.