Posted on
Fri, Feb 5, 2010 : 6:04 a.m.
Ticket quota for Ypsilanti police officers is illegal, arbitrator finds
By Lee Higgins
A mandate requiring Ypsilanti police officers to write 30 tickets each month or face disciplinary action was illegally enacted in 2008, an arbitrator ruled.
The arbitrator overturned a written reprimand issued to Officer Annette Coppock, who didn't write enough tickets. The Police Officers Association of Michigan, which is the parent union for the Ypsilanti Police Officers' Association, had filed a grievance in the case.
While the quota remains in place, Officer Robert Peto, the union president, said he's pleased with the ruling. The way the quota is set up is "illegal" and it's "clearly stated in the motor vehicle code," he said.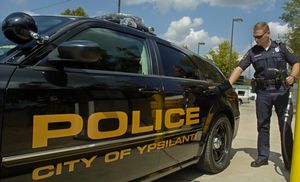 File photo
By law, a quota must be incorporated into an officer's performance evaluation, which wasn't the case in Ypsilanti, the arbitrator found.
Pittsfield Township Public Safety Director Matt Harshberger, who implemented the quota when he was the police chief in Ypsilanti, declined to comment Thursday. Harshberger said he didn't think it was appropriate to comment because he no longer works for the city of Ypsilanti.
When Harshberger enacted the mandate, he said it was a performance evaluation system.
The quota applies to the city's more than 20 road patrol officers. It requires officers to write 30 tickets a month - which can be traffic citations, ordinance violations and warnings.
New Police Chief Amy Walker said Thursday she's aware of the ruling and planned to meet with city officials to discuss it. She said the mandate remains in place, but no officers have been written up in recent months.
April McGrath, the city's director of administrative services, could not be reached for comment Thursday.
According to the arbitrator's decision, Harshberger implemented the quota after the number of tickets being issued in Ypsilanti dropped from 300 to 100 each month. The number fell after Harshberger mandated that officers show up to court when people were contesting tickets, documents show.
Word had gotten out officers weren't showing up, so people were fighting tickets, which was backing up the court docket, documents say. Harshberger testified the drop in the number of tickets "became a major concern" and "impacted public safety."
Coppock, a 15-year veteran, didn't write 30 tickets in March 2009, documents show. As a result, she received a written reprimand and was charged with misconduct, insubordination, neglect of duty and unsatisfactory performance. She had already received a warning for not meeting the quota in October 2008.
According to documents, Coppock testified she planned to meet the quota in March, but was 18 tickets shy on her last day of work that month. She was working on an evidence report, which was somehow lost in her computer, documents show.
Coppock was "tied up in an embezzlement investigation," she told Walker, who was a lieutenant at the time, documents say.
Officers are busy investigating sexual assaults, robberies, aggravated assaults and other crimes, Peto said. In some cases, he said, the quota has pulled officers away from writing up reports.
"It has a bad effect on morale," he said. "For years, we've always been granted discretion to do our job and it's never been a problem and we've been able to accomplish quite a bit."
Coppock wasn't the only officer written up for failing to meet the quota. Last April, at least one other officer was written up and contested the discipline. A decision in that case is expected soon, officials said.
Lee Higgins covers crime and courts for AnnArbor.com. He can be reached by phone at (734) 623-2527 and email at leehiggins@annarbor.com.