Posted on
Fri, Sep 6, 2013 : 2:08 p.m.
Tickets for Notre Dame night game at Michigan Stadium scarce and expensive
By Kellie Woodhouse
Want a ticket to the Michigan vs. Notre Dame game this weekend?
You better be able to cough up some cash.
University of Michigan has been sold out of all of its spectator tickets for about a week, and fans are now selling them on sanctioned online marketplaces like StubHub and unsanctioned marketplaces like Craigslist.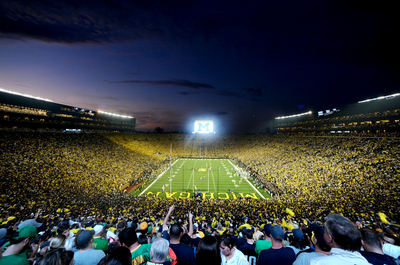 Melanie Maxwell | AnnArbor.com
There were about 2,000 tickets for sale on StubHub midday Friday, at least 1,000 less than the day before.
The most expensive tickets have a price tag of $7,500 each for sideline seats at Row A, and the cheapest tickets were running about $180 and $190. More than 1,100 tickets were selling for less than $300.
But for some, even the lowest priced tickets are too expensive.
Ashley Willis, a 2013 U-M graduate, is looking to buy one online for $125 or less and is traveling from Niles, Mich., to Ann Arbor to spend game day with her friends. She's fine with buying a student ticket and validating it for a fee at the ticket office.
An avid Michigan fan while in college, Willis knows it's unlikely she'll get a ticket to this weekend's game at that price, but she's reluctant to pay more.
"I am trying to save up so I can make a big move to a different state so I can pursue a different career," she explained. "That's kinda pushing the limit."
The game is in demand for several reasons: Notre Dame is a major team, this is the last year of a long rivalry between the two teams and the game is the second one in Michigan Stadium history that will take place at night.
The last night game against Notre Dame broke attendance records at the Big House with 114,804 fans in attendance.
Most of the tickets for sale on StubHub were for end zone and corner sections.
Yuna He is a busy graduate student preparing for job interviews. She sold her student ticket to the Notre Dame game for $180 on Craigslist.
"I am surprised the price is so high," she said.
"Before I sell a ticket, I will just browse Craigslist to see what the average price is," she said. "For [big] games it's super high... The price does vary a lot."
She said that as she looked on Craigslist she noticed students were already selling their tickets for the Ohio State game for more than $200 each, whereas tickets for the Akron game next week are as low as $25 apiece.
Season tickets for students cost $280, or $40 a game.
Tickets to the Notre Dame game have been expensive from the start due to Michigan's switch to dynamic pricing this year. Instead of locked ticket prices, a computer program determined ticket cost based on their market value, which can be affected by team performance, visiting team performance, weather and inventory.
For example, single end zone tickets sold by U-M were priced at about $200 apiece prior to the school selling out. End zone tickets for the Akron game are $65 apiece.
Kellie Woodhouse covers higher education for AnnArbor.com. Reach her at kelliewoodhouse@annarbor.com or 734-623-4602 and follow her on twitter.