Posted on
Thu, Apr 29, 2010 : 3:30 p.m.
Tickets for President Obama's commencement speech are gone
By Erica Hobbs
If you were hoping to get your hands on a ticket to hear President Barack Obama speak Saturday, you're out of luck.
Tickets have officially run out - and there are no plans to release any to the general public on Friday.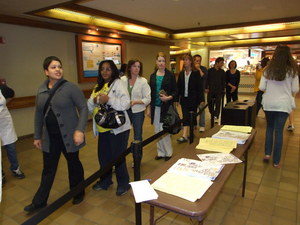 Erica Hobbs | AnnArbor.com
Heather Gray, the manager of the Michigan Union Ticket Office, said tickets ran out about 3 p.m. today. She said the ticket office released about 10,000 tickets today, which went to those affiliated with the university.
Michelle Pate, U-M's director of University and Development Events, said students turned out in record numbers to get tickets this week.
"In recent years, average participation in commencement has included 3,500 graduates," she said in a press release. "This year nearly 8,500 who are eligible to graduate claimed their tickets."
University spokesperson Kelly Cunningham said an estimated 80,000 to 85,000 tickets were given out this week.
She said it was hard to pinpoint the breakdown of the distribution. Undergraduate students received up to eight tickets each and graduate students got up to four.
Cunningham said undergraduate students generally make up 80 percent of those picking up commencement tickets. Representatives from the U-M Alumni Association who were distributing student tickets said most students were taking close to their full allotment.
The ticket office was scheduled to distribute any remaining tickets to the general public starting at 9 a.m. Friday. But a representative from U-M's News Service office confirmed tickets were out, and said no further tickets will be released.
The graduation ceremony will be broadcast nationally on the Big Ten Network and locally on the Michigan Channel (Comcast Channel 22). A live streaming video will also be available on the Big Ten Network.
Commencement starts at 11 a.m. Saturday at Michigan Stadium.
Erica Hobbs is a reporter for AnnArbor.com. Reach her at 734-623-2537 or via e-mail at ericahobbs@annarbor.com.