Posted on
Thu, Apr 4, 2013 : 5:58 a.m.
Springtime tips for bicycle safety on Washtenaw County's roadways
By Rich Kinsey
In this area they say the true measure of spring is the return of the red-winged black bird. I have not seen or heard one yet, but I have pumped up the tires and lubed the chain on my bicycle, so it must be spring.
Therefore it is time to have that discussion about bicycles and motor vehicles sharing the road. The law says we have to do it, except on the expressway, so why not start out the season with a mutual respect and understanding.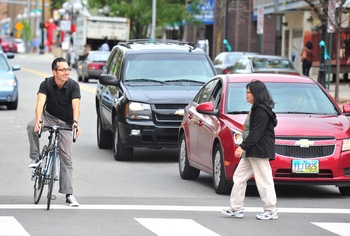 Ryan J. Stanton | AnnArbor.com file photo
In the past I have written similar columns because I am a driver and a bicyclist. I love to "saddle up" on the "29'er" my family bought me and ride on secondary roads in western Washtenaw County as many others do. It is fun and gets you fresh air and physical activity with a natural air conditioning — until you stop — which appeals to my rather rotund mature physique.
That being said, I have a very healthy respect for the larger, heavier motorized vehicles that zip by on my left. I always wear a helmet and have found that a rearview mirror mounted on my sunglasses, helmet or handlebars is a really handy piece of safety equipment.
The rearview mirror, I rely on so that I do not have to look over my shoulder for oncoming traffic. Looking over one's shoulder on a bicycle naturally makes you veer out in front of that which you seek to see and avoid. Moving your eyes up or down to your rearview mirror is thus much safer, faster and promotes a straighter attitude down the far right side of the road.
The far right side of the roadway is where a bicycle should legally and safely be. The exceptions are when passing another bicycle or vehicle, avoiding a road hazard, riding on a one-way street or when attempting the two riskiest bicycle maneuvers — the left turn or riding straight through an intersection where there is a right turn lane.
Left turns in high traffic or highway speed traffic conditions always cause me anxiety. I hate depending on the driver of a car behind me seeing the 1/8th ton orange or traffic green rolling lymon in front of them that constitutes yours truly. If the spectacle of a DayGlo Semper Cop's large frame is not enough to catch that driver's attention, I throw on a red LED strobe light if I am in downtown traffic, overcast, dawn, dusk or other low light conditions.
Worse than left turns on my personal pucker factor scale, is driving straight through an intersection where there is a right-turn-only lane. This is fraught with all kinds of dangers and depending on the intersection, I will admit defeat, take an optional bicycle-on-the-sidewalk spin, go up to the light and cross in the crosswalk just like a pedestrian. I will then ride down the walk on the other side, use a driveway and continue back on my merry way down the roadway.
There are certain places that people expect to see bicycles and certain places or lanes where motorists do not. Left turn lanes and the left edge — or right edge of the straight thru lane — of a right-turn-only lane are two places it is just dangerous to be a bicyclist.
The key for bicyclists is to assume you are nearly invisible and watch out for motor vehicles that are much heavier and faster than you. Remember the concept of being "dead right."
Being "dead right" is being absolutely legally correct in your actions, but being just as dead at the scene, because you failed to heed the more non-discretionary laws of physics and common sense.
Speaking of being dead right, bicyclists please consider riding two abreast down two-lane roads not equipped with a paved shoulder or bike lane. Technically it is legal in Michigan, but please be careful and mindful of the terrain and traffic conditions when doing so.
If you are riding two abreast and you see that traffic is backing up behind you, please be courteous, safety minded and insightful. Fall in single file so traffic can safely pass you. The motorist irritation you prevent at that moment may save another bicyclist, another day, from that road rage vulnerable driver "teaching a lesson" and injuring someone.
In limited sight distance areas, like near sharp curves or hills, I strongly suggest you fall in single file to avoid the tragedy that is the late-for-work and speeding motorist or unsunglassed driver heading east near dawn or west at dusk.
Time of day should enter into a bicyclist's planning process. The most dangerous times to be pedaling are both rush hours and the end of a school day — in the area of a high school.
In school areas remember youthful drivers are "just learning" and are prone to speeding, inattention and inexperience. Their inexperience can lead to a lack of situational and spatial awareness, which might tempt them to cram a small lane with a bicyclist and mom and dad's full-size pickup or SUV complete with bicyclist-noggin-cracking side/rearview mirrors.
On the secondary roads I travel, I live in fear of those wide vehicles and their extended mirrors. Bicycle helmets might save your head from a skull fracture, but if those mirrors hit a bicyclist, it tumbles bicycle and rider into the ditch or a road sign with tragic frequency. If you drive a large vehicle, please move over for a bicyclist or wait to pass until there is an opening to avoid such tragedies.
Bicyclists, please remember when on the road you must obey the traffic laws applicable to motorists.
Weekend peddlers do not forget your manners — share a wave with your fellow bicyclists. I have found that the chance for a wave, nod, smile or acknowledgement of humanity from oncoming bicyclist is inversely proportional to the amount of Spandex a rider wears — or — directly proportional to the weight of the bicycle and width of the tires. So loosen up your spandex, bikers. Unless you are in a race, all bicyclists are on the road for the same reasons—it will not kill your wind resistance or practice time to nod at the huffing puffing DayGlo orange or lymon rolling down the other side of the road.
Lock it up, don't leave it unattended, be aware and watch out for your neighbors.
Rich Kinsey is a retired Ann Arbor police detective sergeant who now blogs about crime and safety for AnnArbor.com.