Posted on
Sat, Oct 20, 2012 : 3:30 p.m.
Titans of tailgate revel in U-M - MSU game day excitement
By Amy Biolchini
It's the one day every two years that the mix of maize and blue dotting Ann Arbor before University of Michigan football games turns green at times -- and for the tailgating veterans, it's their time to shine.
Setting up their finest University of Michigan football gear and memorabilia on display for the more than 100,000 fans that flood the streets around Michigan Stadium, the titans of tailgate reigned supreme Saturday in advance of the Michigan-Michigan State game Saturday.
The high-energy vibe leading up to the 3:30 p.m. rivalry game was contagious, as shouts of "Go green, go white!" rang out to counter the familiar "Go blue!"
Though nearly everyone tailgating near the stadium was decked out in their finest fan gear, some tailgates were decidedly more ambitious than others.
The true titans of tailgate let all of their flair hang out Saturday, from their campers, their grills, their autographed pictures and books, gnomes and Bo Schembechler statues to their stuffed wolverines.
It's impossible to miss the East Stadium Boulevard tailgate site of Tom Anderson, 49, of Holland. Five seasons ago Anderson bought an old burgundy Greyhound bus online and spent a year turning it into "Wolverine One" — a maize-and-blue fan's dream ride.
The interior is full of signatures of players and coaches, and features pictures of Anderson with Wolverine notables — all sports memorabilia Anderson and his wife, Jackie Anderson, have been collecting for most of their lives.
"It's the people that come that make it," Tom Anderson said. "It makes me feel good."
Tom Anderson said his tailgate bunch usually includes about 150 to 175 people per game.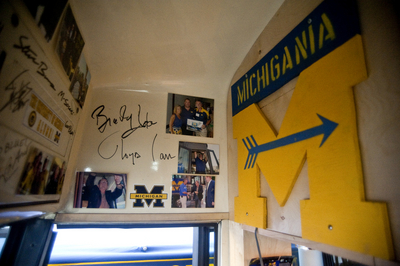 Joseph Tobianski | AnnArbor.com
"At the end of the season I'm ready to be done," Tom Anderson said, explaining it takes about half a week to prepare for the tailgate and about half a week afterward to recover.
Tom Anderson, who is now a practicing dentist, attended the U-M's School of Dentistry. His children now go to U-M, and so the tailgates he hosts along with his in-laws, Mike and Anna Durham of Farmington Hills, are like a family reunion.
Though "Wolverine One" was by far one of the most extravagant traveling fan rigs at the tailgate Saturday, the RV of Conrad and Mary Bernys of Pinckney also bears the mark of lifelong fans.
Painted with maize and blue stripes and featuring a mural of a crowd of Wolverines watching a game in the Big House, the RV has seen the couple — who are both in their early 80s — through about a decade of tailgate events.
"I've been a Michigan fan all my life," said Conrad Bernys, explaining he attended medical school at U-M.
The couple always tailgates in the parking lot at Pioneer High School, and are staples of the scene. They travel to every game of the season - both home and away.
Relaxing outdoors with glasses of wine, the couple watched a TV installed in the side of the RV right below the wolverine mural.
"We've got to win this one today," Conrad Bernys said.
In a row of tents at the Pioneer parking lot you can find Mark Marek, 62, of Canton and his crew of tailgaters.
He pulled only a smattering of his Michigan memorabilia from his living room to put on display for the game Saturday.
"You name it, we've done it," Marek said of the U-M football experiences he's had - from entering the field through the tunnel to attending coaches' funerals.
Marek said he's been hooked on Michigan football ever since he went to his first game at the stadium at the age 14. The scene at the Big House made quite an impression.
"The size of the crowd and the seats so close to the field…" Marek said, trailing off.
His tailgate neighbors, Rhonda and Jeremy Howard, ages 44 and 37, of Jonesville, echoed Marek's sentiments.
"Once you walk into the stadium, you get chills," Rhonda Howard said. "The team camaraderie is really great."
Though Rhonda Howard said she wasn't a fan originally, her husband's love of the team got her into it. Saturday, she kicked back in a chair underneath a outdoor heater - which was naturally painted maize and blue - that her husband built specially for tailgate.
Though the Michigan fans were sporting their colors in full force Saturday, there was a fair share of Michigan State fans in the crowd.
Bob and Lori Davis, ages 50 and 51, of Novi had their green and white tent parked in a spot at the Ann Arbor Golf and Outing Club Saturday.
They took pains throughout the week not to jinx the game, they said. Lori Davis said she was extremely careful not wear any shades of blue in anticipation of the big rivalry game, while Bob Davis said he made sure to put on his pair of lucky underwear. The couple both graduated from Michigan State University, but have friends and family that are loyal to the University of Michigan.
Being a Sparty fan in Ann Arbor wasn't as bad this year as it has been in years past, Bob Davis said. They got a less hostile reception than they have in the past, the couple said.
Still, it's not ideal, Lori Davis said. "I'd rather be in East Lansing."
Amy Biolchini covers Washtenaw County, health and environmental issues for AnnArbor.com. Reach her at (734) 623-2552, amybiolchini@annarbor.com or on Twitter.