Posted on
Tue, Dec 27, 2011 : 5:58 a.m.
To the rescue: Church collects unsold food from U-M football and basketball games for Food Gatherers
By Janet Miller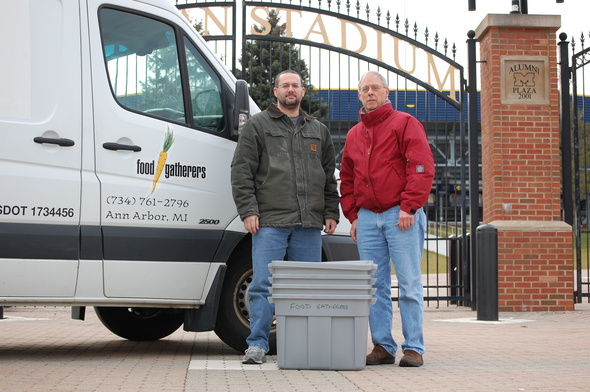 Janet Miller | For AnnArbor.com
After all of the excitement of a
University of Michigan
football game ended, after the final cheers and the last refrain of the fight song, after the last burly player left the field and the final frenzied fan found the exit, a crime - of sorts - would be committed: Tons of unsold food - pizza, hot dogs and more - would be tossed into Dumpsters. It would go to waste.
But a new food rescue effort by a local church has changed that, collecting more than 10,400 pounds of leftover food from Michigan Stadium this past fall and given to Food Gatherers, which distributes eight tons of food a day to soup kitchens and community pantries around Washtenaw County. A similar post-game food rescue effort will be held at U-M Big Ten basketball games at Crisler Arena.
It's especially welcome, said Mary H. Schlitt, director of development for Food Gatherers, because the food is high in protein, something that is in short supply and expensive to purchase.
When a member of First Presbyterian Church of Ann Arbor commented on the volume of food that was tossed out after each U-M football game, where the church ran one of the dozens of concession stands, Don Redding decided to look into it.
"It was being thrown out, literally, in trash bags," Redding said.
He contacted the U-M and Sodexo Inc., its food service provider for athletic events. He also connected with Papa Johns, a subcontractor for pizza.
By the first football game, Redding had organized a small corps of church volunteers who distributed plastic tubs to each of the roughly 45 concession stands that circle the stadium. The plan was to pick them up and load them on to a refrigerated Food Gathers truck when the game was over.
They hit pay dirt on the first game.
Because of thunder and lightning, the game was eventually canceled, leaving 2,500 individual pizzas along with hot dogs, bratwurst and soft pretzels unsold, Redding said. It was the largest food rescue of the season.
Because the food is prepared in a commercial kitchen, Food Gatherers can accept it, Schlitt said. It also helps that the pizzas are individually sized and ready to be eaten.
"You don't need a kitchen to prepare them," she said.
The football and now basketball food rescue adds two more food sources to the more than 300 different food sources, including restaurants and grocery stores.
It comes at a time when the amount of rescued food is dropping as restaurants and food stores have grown savvy about eliminating overages.
"Food stores are better at reducing their back ends," Schlitt said. "Walmart, for instance, now has just-in-time delivery for their fruits and vegetables. Grocers are getting better and better at ordering."
That means Food Gatherers must purchase more food, seeing a 33 percent increase in food spending over the past three years, she said.
But demand is rising with the weak economy. The post-game food rescue "opens up a whole new food source," Schlitt said. "No one had ever connected the dots before. Don was able to connect the dots. We need more of that."
The rescued football food has been delivered to Ozone House, SOS Community Services and Metropolitan Baptist Church food pantry in Ypsilanti, among other locations. Sodexo has donated to Food Gatherers from other locations before beginning the stadium food relationship.