Posted on
Wed, Nov 25, 2009 : 1:55 p.m.
Top 10 tips to cut back on calories and guilt this Thanksgiving
By Tina Reed
From the whipped mashed potatoes laden with gravy to the creamy green bean casserole and homemade pumpkin pie, a typical Thanksgiving meal can easily add up to 2,500 to 3,000 calories in a single sitting, said Stacy Witthoff, a University of Michigan MHealthy wellness program registered dietician.
It's also easy to cut out calories in ways that add up to avoid the guilt this year, she said. Witthoff and the Alliance for a Healthier Generation partnership between the American Heart Association and the William J. Clinton Foundation offered their top 10 tips for those interested in chowing down without packing on too many pounds this holiday.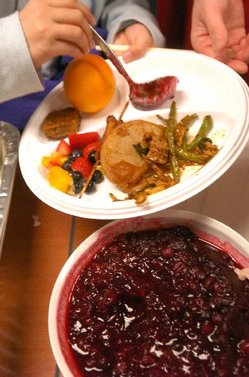 File photo
1. First — portion control: Pile up on vegetables and lean turkey first and make a limited amount of room on the plate for the higher calorie foods like casseroles and desserts.
2. Stick with the lean meat: Turkey can be a good, lean source of protein, but it's best if you stick with the white meat. It's recommended to eat no more than three to four ounces of meat, which is the size of a deck of cards or an iPhone. For that much dark meat, it's about 286 calories, Witthoff said. If you choose white meat, it's only 124, she said. Don't eat the skin. It truly is where a lot of the fat and cholesterol is, she said.
3. Go for the real stuff: Cranberries are full of antioxidants, but the canned kind is packed with sugar and calories. Try making your own cranberry sauce by mashing fresh cranberries with a splash of balsamic vinegar or apple juice concentrate.
4. Think before you drink: People often consume more alcoholic beverages around the holidays, but drink in moderation and think about the content of your drink, Witthoff said. For instance, one Chardonnay might set you back 90 calories, while a port wine has more than 180 calories per glass.
5. Cut back on fat: Whenever possible, choose the lower fat ingredient. One dietician at MHealthy separates the fat from her homemade gravy by pouring it in a plastic bag and allowing it to cool so the fat will rise to the top of the bag. She cuts the bottom corner of the bag and only uses that portion of the gravy, Witthoff said. Use a low-fat buttermilk or low-sodium chicken stock in place of cream or whole milk in mashed potatoes, whipped sweet potatoes or butternut squash.
6. Increase the fruit and veggie options: Sweet potatoes have a lot of vitamin A, vitamin C, potassium and fiber, and you can make them with less fat by adding more flavor such as cinnamon or nutmeg. Desserts made of baked apples or poached pears can be a tasty and lighter way to go than typical desserts.
7. Lower carb stuffing: Use more veggies like onions, celery, vegetables or dried fruits and use less bread to make a lower calorie version of the Thanksgiving staple. Add extra nutrients by choosing whole grains breads.
8. Put the fork down: Making a conscious effort to take a break between bites and enjoy the company around you, as well as the meal, can help tune you in when you begin to feel full. Remember, the food can be saved for leftovers, Witthoff said.
9. Pick what really matters and enjoy: "With dessert, we're all gonna eat it," Witthoff said. "Take a smaller portion and remember you can eat more tomorrow."
10. Don't forget the pumpkin: Pumpkin is a low-fat, low-calorie food with potassium, vitamin A and vitamin C. When making pie, make it with canned, evaporated fat-free milk, half the sugar called for in the recipe, a graham cracker crust and top it with light or fat free whipped topping.
So what are your tips? Do you allow yourself a day full of holiday splurges with promises to compensate with diet and exercise later? Are you able to just stick with moderation on Thanksgiving? Are you a big believer in not obsessing over calories - especially around the holidays when the focus is supposed to be both on the food and the company? What foods are just simply worth the extra calories?