Posted on
Thu, Jan 17, 2013 : 8 a.m.
Top 5 and more: Considerations for Michigan after Gov. Rick Snyder's State of the State
By Paula Gardner
Will Michigan's politicians let effectiveness trump partisanship in 2013? Can Gov. Rick Snyder come up with more road funding?
And what should the average voter think about Wednesday night's State of the State address?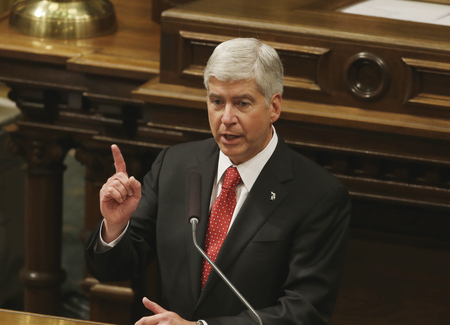 AP Photo/Carlos Osorio
Those questions and more are circulating across the state this morning as Michiganders (or Michiganians, depending on preference) consider just what unfolded last night.
Snyder said many accomplishments during his term are moving Michigan forward. However, many more remain. "Let's get the job done," he said.
MLive's Tim Martin, who covers state government, offered his 5 takeaways from Snyder's presentation. Among them: We should watch for more news from Snyder, who doesn't just roll it out once a year.
Meanwhile, reaction continues to build after the speech, which highlighted a new plan for improving Michigan's roads. That plan — calling for higher fees — may never be enacted if Democrats reject it, notes MLive columnist Tim Skubick.