Posted on
Wed, Jul 10, 2013 : 5:57 a.m.
Top 5: Considerations as Ann Arbor's school board asks superintendent candidates about AnnArbor.com comments
By Paula Gardner
Related stories:
The Ann Arbor Public Schools spent two days this week vetting the six finalist candidates for superintendent, with the school board aiming its top 20 questions at each individual.
Questions about the budget. Redistricting. Student achievement.
And anonymous comments at AnnArbor.com.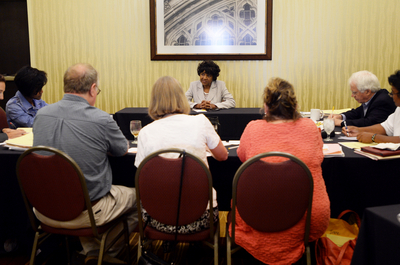 Melanie Maxwell | AnnArbor.com
We were only partly surprised that this website made the district's priority list for questions to ask a prospective superintendent. Communication strategies already are topics of concern in this community, which has spent two years hearing very little direct comment from its top school official.
And, as the financial pressures mount and the district turns to its savings to balance its budget, more and more questions in the community seem to be raised — even as the opportunity to interact with the board as a group is limited due to its meeting structure.
We know there are readers who do not value our commenting platform, which allows anonymity within certain guidelines to encourage a constructive conversation. School trustees have been among the most vocal people who've expressed concerns.
I'm not convinced that the comments at AnnArbor.com should be a part of the superintendent discussions — but I also can't change that. And MLive Media Group doesn't plan to change the commenting structure.
What I can offer are these Top 5 considerations for Ann Arbor as the school board raises AnnArbor.com as a question to the candidates who seek to lead our district.
1. The school board is reading the comments. Otherwise, how could members form the opinions they state? That means that commenters here have influence at some level.
2. Civility is valuable. That's the most important message I believe is coming from trustees. While they're reading the comments, the message in many of them is easy to dismiss due to tone, imprecise (or inaccurate) information or off-hand insults. And that means the influence never reaches its potential impact. So I have to remind commenters: Please stay constructive.
3. Would AnnArbor.com be an issue today if this community had a visible superintendent leading the conversation about the schools for the past two years? Not in the same way. An effective communicator in the top spot would set the tone for the entire district, including residents who disagree with leadership. Or just wonder about decisions. During Patricia Green's tenure, we had next to no access to her, except through intermediaries — and can count the number of interviews she allowed. I'm still not sure that she knows how unusual that is for any community, much less Ann Arbor.
4. Commenters will find your weakness. That's not a bad thing, though it can make you feel vulnerable. I went through that transition as AnnArbor.com launched, and I tell new reporters all the time: Commenters will make your writing better, though you won't always appreciate how they express themselves. I will say that's true of the school district, too. Values and performance will go through a daily reality check: Is the district truly transparent? Can you confirm success? How effective are your strategies? You'll get an answer from an unfiltered portion of this community. I think that can be valuable — particularly if you get engaged in it.
5. The community is hungry to be heard. And this community will find a way to do just that — we see that in the district, too, from a trustee's blog and the AAPS News website set up to promote district news. We look forward to seeing how the new superintendent will manage the drive of residents to provide feedback. And we're encouraged that many of the candidates — and trustees - are placing a value on public communication.
(Paula Gardner is editor of AnnArbor.com. She can be reached by email or at 734 623 2586.)