Posted on
Fri, Oct 14, 2011 : 5:59 a.m.
Top 5: Advice from a Spartan for U-M fans going to East Lansing this weekend
By Kyle Feldscher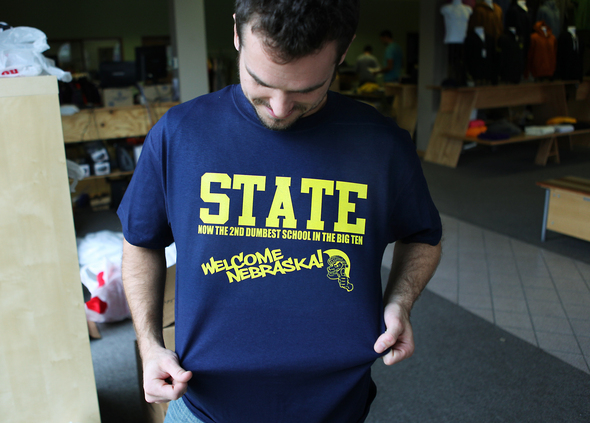 Jeff Sainlar | AnnArbor.com
East Lansing
. It's a wonderful place, particularly on football Saturdays and even more so on the morning (and early afternoon) of the Michigan State-Michigan game, easily the most anticipated campus event of the year.
However, if you are a Michigan fan sporting your maize and blue as you walk down Grand River Avenue or along the picturesque Red Cedar River, you'd be forgiven for being a little bit intimidated. After all, I am Spartan and I fully recognize how some of our green-and-white brethren behave after a few hours of tailgating with a rivalry game on the horizon.
In recognition of the many people — including myself — who will be making the trip from Ann Arbor to East Lansing on Friday night or Saturday morning for the game, here are the top five pieces of advice for Wolverine fans coming to EL for the game. Consider it the last nice thing I do for anyone in maize and blue until about 4:30 p.m. Saturday.
1. Wear your maize and blue proudly, but it might be in your best interest to leave the "State Sucks" T-shirt at home until next season.
First off, be proud of who you are. If you're a Michigan fan, wear that yellow shirt around East Lansing. There are few things worse than the Michigan (or MSU fan, for that matter) who gets a ticket to the game in the opposing team's student section and wears the shirt of the team they're rooting against to blend in.
However, it will probably be in your best interest to not wear a blatantly anti-Spartans T-shirt around town — especially not after the game, according to Rick Winowiecki, one of the owners of the Ann Arbor T-Shirt Company.
Winowiecki said two anti-State T-shirts have been hot sellers in the past two weeks. One reads "State … because high school was much fun the first time around" and the other suggest that "State has a small . . .'' — you can probably fill in the blank here.
Winowiecki said sales of those two shirts in the past few weeks "dwarf the sales of everything else."
He said before the game, the shirts will be conversations starters and might generate a few laughs. But, if you're planning to stay in East Lansing for the night after the game is over, it might be a good idea to change into a simple Michigan shirt.
"At the end of the day, if you're at a party and State lost and they get hostile, you don't want to get caught wearing one," Winowiecki said. "In my experience, you'll want to wear it prior to the game when it's all fun and games."
2. Don't engage the belligerent people who yell at you.
Most MSU fans are friendly folk who simply like to have a few drinks before the football game, go into Spartan Stadium and cheer on the Green and White. But, like any school, there are a few idiots in our number.
There's a very mixed crowd in East Lansing for these games; lots of Michigan fans come up, it's usually very pleasant and everyone gets along. However, when the inevitable drunk starts yelling obscenities at you for the awful crime of supporting your team, just do the smart thing by smiling and walking away.
Sgt. Florene McGlothian-Taylor from the MSU Police Department said the best way to avoid these situations is to check your alcohol intake. Many times, silly arguments escalate because of heavy drinking, she said.
"If something like that happens, just disengage," she said. "Don't escalate the situation; just leave. Celebrate with class and be above the fray."
MSU police officers will be on patrol around campus, along with the Ingham County Sheriff's Office, East Lansing Police Department and Meridian Township Police Department, she said. McGlothian-Taylor said anyone who spots something illegal should report it to any of the police officers immediately.
"Our community is a good host, but we will not tolerate unlawful people," she said.
3. Tailgate on campus, but not on Munn Field.
If you're coming in from Ann Arbor and you're looking for a spot to tailgate, MSU's beautiful campus is definitely your best bet. However, stay away from Munn Field.
Munn Field is the large grassy area near Spartan Stadium, the Breslin Center and next to Munn Ice Arena at the corner of Shaw Lane and Chestnut Road. It used to be one of the centers of tailgating at Michigan State (and to an extent it still is) but for those looking to enjoy a few adult beverages before the game, it is an alcohol-free zone.
A Michigan State University ordinance bans open containers of alcohol on campus and in all public areas of campus, except on home football game days. That means anyone of legal drinking age can enjoy a drink or two anywhere on campus — except for Munn Field.
Off-campus tailgating is usually set in the student homes and, not surprisingly, carries a much younger crowd. Most areas of campus tailgating, except the tennis courts at Chestnut and Wilson Roads, are an older, alumni crowd. It's far more likely you'll find a friendly scene somewhere on these lots — my personal selection is behind Giltner Hall off of Auditorium Road near Farm Lane Road — than off-campus or at the tennis courts.
4. If you don't have tickets, get to a bar early because they're going to be packed. East Lansing is a much smaller town than Ann Arbor and, while the bars might be legendary, there simply aren't very many of them.
With a large crowd expected for the weekend, you're probably going to have to get to a bar at a ridiculously early time in order to get a space.
Glenn Granger, one of the managers of the East Lansing Buffalo Wild Wings location, said the restaurant is expected to be full at 6 p.m. Friday. On game day, Buffalo Wild Wings will open at 8 a.m. and is preparing to be filled to capacity by 9:30 a.m. That's a full two and a half hours before game time.
Like most bars in East Lansing, Buffalo Wild Wings — at the corner of Albert Avenue and Charles Street — will be 21 and up only after 9 p.m. on Friday and all day Saturday.
Granger said he's expecting a solid mix of MSU and U-M fans for the game, but the atmosphere at the restaurant will be friendly.
"We keep it light. Obviously, there's a lot of people coming up from Ann Arbor, saying 'Go Blue,'" he said. "But one thing's for sure — if you get into a fight, you're getting kicked out."
5. Travel in packs or meet up with good friends who are State friends and stick with them.
As one MSU fan who was walking near First Street and West Huron Street in Ann Arbor can attest, walking by yourself in enemy territory can sometimes end badly — even if you're doing nothing wrong.
While some idiots might take a shot at you if you're walking alone down the street in your maize and blue, they're far less likely to do it if you're with several other people all wearing the same gear. And they're even less likely to do it if you're with several people wearing MSU and U-M gear.
McGlothian-Taylor said using the buddy system and avoiding large crowds is a great way to keep out of potentially dangerous situations.
"Keep moving and avoid large crowds," she said. "Especially if you're wearing the opposite colors."
Drinking on campus is legal, but not on public streets.
Spartan Stadium has a no-bags policy. You also can't bring in any seatbacks or seat pads. (Note: I've been alerted that you can't bring in seat pads with pouches or pockets. Other seat pads are OK.)
Check this document from the MSUPD for answers to all your other game-day questions.
Keep these pieces of advice in mind and you'll definitely have a fun time this weekend. See you on Saturday. Go Green, Go White.
Kyle Feldscher covers cops and courts for AnnArbor.com. He can be reached at kylefeldscher@annarbor.com or you can follow him on Twitter.