Posted on
Thu, May 2, 2013 : 5:58 a.m.
Top 5 ways not driving to work can make a difference in Ann Arbor
By Amy Biolchini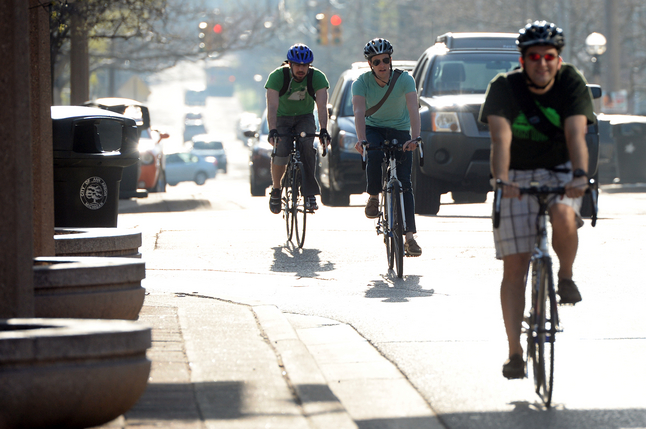 Melanie Maxwell | AnnArbor.com
About 70,000 people commute in to the city of
Ann Arbor
every day -- and the vast majority of them choose to drive.
Rush hour traffic is a common gripe on highways and major routes around the city -- and parking can be a challenge at peak times.
Wednesday, getDowntown launched its annual competition to get people who work downtown Ann Arbor to consider a method to get in to work other than driving.
The Commuter Challenge draws thousands of participants from hundreds of area businesses to commit to logging the distance they travel to work and their method of travel.
The competition pits businesses against each other to see whose employees can divert the most greenhouse gasses from entering the air.
Here are the top five ways that not driving to work can make a difference in Ann Arbor:
1. Tip the scale
Monica Patel, climate and energy specialist at the Ann Arbor-based Ecology Center, said the more people participate in alternative modes of transportation, the more they think about living closer to where they work to make their commutes simpler.
Of the 39,095 people who live in Ann Arbor and work in Ann Arbor, 50 percent drive alone to work, 20 percent walk to work, 11 percent take the bus and 5 percent bike to work, according to the Washtenaw Area Transportation Study's most recent transit profile, conducted in 2009.
In Ypsilanti, of the 2,680 people that live and work in the city limits about 30 percent drive alone to work, 42 percent walk to work, 2 percent take the bus and 2 percent bike to work.
The educational benefit that comes from increased participation and interest in alternative commuting is valuable and much-needed, Patel said.
"Driver-cyclist interactions have been difficult and really confusing," Patel said. "I think there needs to be both - cyclist and driver education. Cyclists do pick the wrong roads sometimes."
Various pilot projects the city has proposed -- including painting bike lanes green on city streets -- could be a good way to evaluate the effectiveness of long-term solutions to support alternative commuters, Patel said.
2. Build relationships
For Natalie Hensel, box office manager and accounting assistant at the Michigan Theater, riding the bus to work from her Ann Arbor home about a mile outside of downtown has proved to be a great way to meet people.
"You can get to know other people that live in the neighborhood," Hensel said. "There were a couple of situations where I lived in an apartment complex and didn't know my neighbors -- but riding the bus you just start talking to someone, you run into each other a couple times a day and before you know it you're sitting down for coffee."
The people-watching opportunities on public transit also make for good entertainment on the way to work, Hensel said.
"It's community building -- you see people more and you're more likely to talk to them," Patel said.
3. Foster your creative side
For those that typically drive Washtenaw Avenue or Huron Street in to work, those busy roadways may not be the safest route to navigate by bicycle.
"I take a lot of side streets," said Andy Fowler, a software developer at Nutshell.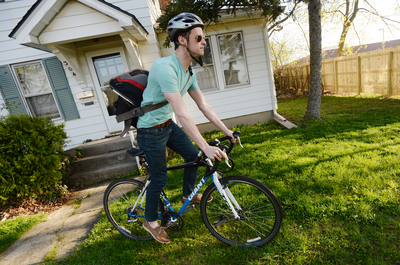 Melanie Maxwell | AnnArbor.com
Living in the shadow of the Big House off of Main Street, Fowler said his typical morning commute winds through several less heavily traveled streets to get downtown instead of following Main Street the entire way.
"When you commute using bus or walking and biking, you have think a little more in advance about your day," Hensel said. "With riding the bus, the bus usually takes a little bit longer and you're not on your own schedule -- you're on the bus's schedule."
Buses don't run past 10 p.m. -- so Hensel said she has to plan for special arrangements when there are evening events at the theater.
"I think it's more about just setting goals -- it's a little personal challenge," Hensel said. "If you give it a week, and maybe try it a couple of times … Make a little lifestyle adjustment and be willing to miss the bus a couple of times."
4. Shop local
"(Alternative) commuters tend to keep more dollars in the downtown area," Patel said. "You're more likely to go to a local place that's down the street rather than driving to some places farther away."
The local-first perspective among people who don't drive to work in Ann Arbor is one that Patel said she's noticed.
"People who walk end up stopping by the (People's Food Co-Op) to pick up what they need instead of driving themselves to a store," Patel said.
5. Stay healthy
Keith Bourne, mobile strategist for Arbormoon Software Inc., said he chooses to bike to work because it helps him train.
"I certainly like the cost savings and environmental impact, but main motivation is training," Bourne said. "I train for triathlons and try to get anywhere from 50 to 120 miles of biking in a week."
Walking, biking and even taking the bus requires more mobility than sitting in a car, Patel said.
"There are health benefits to alternative transportation that you don't see when you drive to work," Patel said.
In 15 minutes of brisk walking about 3 mph, an average person would burn about 65 calories. Similarly, in 15 minutes of bicycling about 10 mph, an average person burns about 100 calories.
Amy Biolchini covers Washtenaw County, health and environmental issues for AnnArbor.com. Reach her at (734) 623-2552, amybiolchini@annarbor.com or on Twitter.