Posted on
Thu, Mar 8, 2012 : 5:56 a.m.
Federal officials, Ypsilanti City Council members will meet to discuss city housing commission's issues
By Tom Perkins
Members of the Ypsilanti City Council and top officials from the U.S. Department of Housing and Urban Development's Detroit Field Office will soon meet to discuss financial and management problems at the Ypsilanti Housing Commission.
HUD issued a sustainability report in November outlining problems and mandated a corrective action plan to improve the agency.
The meeting will take place at 8:30 a.m. on March 20 in City Council chambers and is part of the ongoing dialogue between the city and HUD as they monitor improvements at the Housing Commission.
A first meeting between a City Council sub-committee, former City Manager Ed Koryzno and HUD officials took place in January.
According to a summary of the meeting provided by Koryzno to City Council, HUD cited the housing commission's "unresponsiveness to requests for information, co-mingling of public housing funds and Hamilton Crossing funds, lack of management oversight and poor financial reporting."
The March 20 meeting was originally scheduled as a meeting between Mayor Paul Schreiber and HUD officials, but Schreiber invited other council members. Because a quorum could be present, notice for a special meeting has been posted.
Schreiber said he is confident the Housing Commission is making progress on its sustainability plan.
"It seems as though things are getting done," he said. "Items are getting checked off. I'll be interested to see what HUD has to say about the amount of progress and pace of progress."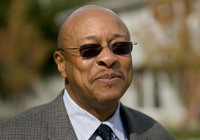 Tom Perkins | For AnnArbor.com
If the remaining issues aren't corrected, HUD officials previously said they could cut off the housing commission's funding or bar Housing Commissioner Executive Director
Walter Norris
from serving at a public housing authority.
Among other issues listed in the sustainability report were:
A failure by the executive director to provide oversight of YHC programs.
A failure by Norris to respond to HUD requests for information.
Inadequate reporting on finances by the YHC to its Board, leaving the Board without enough information to provide oversight.
Approximately $20,000 in funds that are unaccounted for.
Poor and questionable accounting practices.
A lack of spending and accounting controls.
Excessive administrative salaries compared to other agencies.
A large number of vacant units.
A slow turnaround rate in getting new residents.
HUD and city council has also labeled Norris's salary of $105,000 annually "excessive."
The situation is complex because it involves a federal agency, a council-appointed board of volunteers, a housing commission and the city council. The ownership and oversight arrangements among the parties are unique, and how the situation plays out could affect the $18 million Hamilton Crossing public housing development.
The public housing stock is owned by the city but controlled and managed by the housing commission. The Housing Commission receives funding from HUD and, in return, it must adhere to extensive HUD guidelines and meet HUD standards.
The Housing Commission board members are appointed by the mayor and approved by City Council. The board should provide oversight of the commission and report to HUD.
City Council has no direct authority over Housing Commission administration. Only the Housing Commission board and HUD can remove the housing commission's executive director or make changes to the administration.
Council Member Ricky Jefferson, who attended the initial meeting with Council Member Pete Murdock and Mayor Pro Tem Lois Richardson, said council has been receiving bi-weekly updates on progress.
"The upcoming meeting is one of the tools from the last meeting being implemented by HUD as a vehicle to help the YHC to achieve the goal of eliminating the agency's deficiencies and to give council relevant, hands-on insight into what actions HUD accept as necessary for progress," he said. "Hopefully all parties will come out of this next meeting with a sense that more mutual commitment is needed to achieve as a realistic goal, higher standards at the YHC."
HUD officials are also giving the Housing Commission's Board of Commissioners additional instruction and training on the board's responsibilities.
Lana Vacha, director of HUD's Detroit field office, said in January that HUD would help the board members better understand their roles and understand the management and oversight process.
"We present to them evidence and information we have to help them arrive at a decision," she said.
In January, Norris said removing the executive director and cutting off funding are measures reserved for housing authorities in much worse condition than the YHC, and he said he and the Housing Commission are working with HUD.
"This a standard, potential consequence to non-compliance," he said. "HUD stated that they could withdraw block grant funds. That has always been a potential consequence of communities not being responsive to HUD. This housing commission does not fall into that category, nor do I as a director fall into the category of being barred."
HUD officials did note that the Housing Commission has made improvements to its physical stock.
HUD places troubled agencies into three category depending on the issues, Norris said. The issues at the YHC are expected to be corrected within six months, he said, and the agency is in the category that includes the least problematic commissions.
He said based on the latest report on the housing stock's physical condition and reports from the YHC's accountant, the YHC is not a troubled agency.
"I think HUD wants us to take them seriously, and we do take them very seriously," Norris said. "But I do not think from our scores that we are a troubled agency and feedback from our accountant doesn't indicate that we are troubled."