Posted on
Tue, Nov 10, 2009 : 7 p.m.
Top walking regions in Michigan: Ann Arbor is #1
By Amalie Nash
If you're heading out for a walk in the Ann Arbor area, rest assured that the city's pedestrian safety is higher than most.
So says a report released today that ranks the Ann Arbor metro area as the state's most pedestrian friendly, compared to 14 other metro areas in the state.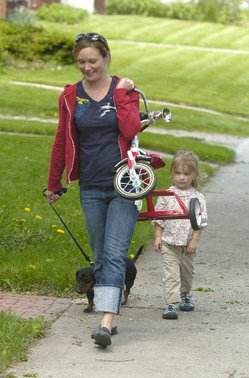 File photo
The report, Dangerous by Design: Solving the Epidemic of Preventable Pedestrian Deaths, was a joint effort between Transportation for America and the Surface Transportation Policy Partnership. It was released today by the Michigan Environmental Council.
According to the report, the Ann Arbor metro area saw 4 pedestrian fatalities in 2007-2008. The pedestrian danger index was listed at 7.8, far below most other metro areas in the state. That index is a measurement of the relative risk of walking, adjusted for exposure; it's calculated by dividing the average pedestrian fatality rate by the percentage of residents walking to work.
The Michigan metro area rated most unsafe for pedestrians was Flint, followed by Monroe and Saginaw/Saginaw Township North.
The report contained a few statistics on overall pedestrian fatalities. The national average is 1.53 pedestrian deaths per 100,000 people, while Michigan has 1.26 pedestrian fatalities per 100,000 people.
Michigan does, however, have a higher than average percentage of total traffic deaths that involved pedestrians. Of traffic fatalities, 12.2% of such crashes in Michigan involved pedestrians, compared to the national average of 11.8%.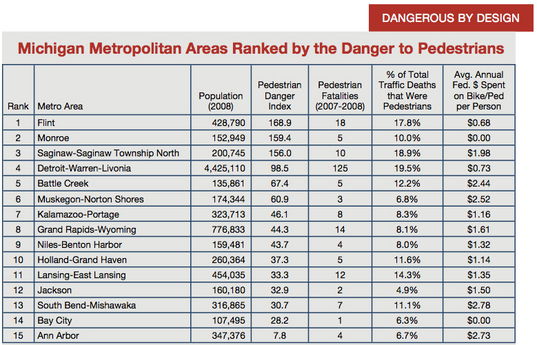 The report's findings were cited in several media outlets and blogs today, including Michigan Complete Streets and The Bay City Times, which noted Bay City came in second after Ann Arbor.
According to the report, more than 4,500 Americans died last year while crossing the street, walking to school, going to a bus stop, or strolling to the grocery store.
• Read the full report.
What do you think: Is the Ann Arbor area safe for pedestrians? Any ways it can be improved? Let us know what you think in the comments section.