Posted on
Sun, Jun 6, 2010 : 7 a.m.
Tornado touches down in Dundee overnight; Ann Arbor hit with 2 inches of rain
By Amalie Nash
Updated story: 11 people treated for injuries after tornado touches down in Dundee; storms knock out power across the region
Officials say a tornado touched down in Dundee overnight, causing severe damage to Cabela's and the Splash Universe water park, ripping roofs off homes, collapsing at least one house and blowing tractor-trailers off US-23.
National Weather Service meteorologist Amos Dodson said a survey team will be sent to the area to verify the damage was caused by a tornado and determine how strong it was and where it touched down.
The tornado was reported at 2:17 a.m.
"Based on the reports we received and the radar activity, we do believe it was a tornado," Dodson said.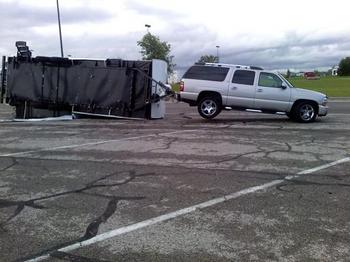 Emergency crews from across the area - including Pittsfield Township police officers and firefighters and Ann Arbor Fire Department crews - were sent to Dundee to help. The village of Dundee is about 25 miles south of Ann Arbor in Monroe County.
Residents in Dundee reported numerous trees down on houses and cars and power outages. US-23 near Cabela's was closed due to debris in the roadway.
An official with the Monroe County Office of Emergency Management said no one was available to comment about the damage at 7:20 a.m.
It's unclear how many people were injured. According to the Toledo Blade, several people were taken to Dundee hospitals for treatment after damage to the roof of Splash Universe at the Holiday Inn Express near US-23. No life-threatening injuries were reported.
About 500 people were evacuated from the hotel to the nearby Dundee Middle School, Monroe County commissioners told the Blade.
A state of emergency was declared in Dundee Township and the village of Dundee. A help line was set up for anyone who needs assistance and can be reached at 734-529-2277.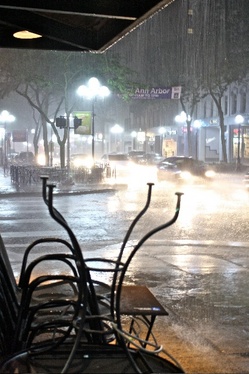 Photo courtesy of Angela Todd
Officials believe it was the only tornado to touch down overnight, Dodson said.
The system of storms - which lasted from about 8 p.m. to 2 a.m. - dumped 2 inches of rain onto the Ann Arbor area, leading to widespread flooding, Dodson said.
At 2:30 a.m., meteorologists received reports of flooding at Packard and Eisenhower and M-14 and US-23. A flash flood warning was issued Saturday night.
"We're seeing a lot of flooding, and the storms mostly moved along I-94 from Ann Arbor to Detroit," Dodson said.
Dispatchers from the Washtenaw County Sheriff's Department said they weren't aware of any road closures or other issues due to flooding this morning.
A DTE Energy power outage map updated at 7:16 a.m. showed many residents in Washtenaw and Monroe counties without power. Areas hardest hit by power outages include Ypsilanti, York Township, Augusta Township, Milan, London Township, Dundee, Maybee, Raisinville and Frenchtown.
At 9:46 a.m., an updated map showed power had been restored to some customers in Milan and the townships of York, Augusta and London. Ann Arbor had between 1,001 to 2,000 customers without power.
More rain could be in the forecast. Dodson said there's a 40 percent chance of rain today - but it would be light, scattered showers.
Did you get photos from last night's storms or the flooding? E-mail them to news@annarbor.com.