Posted on
Thu, Apr 1, 2010 : 11:06 a.m.
Toto, I've a feeling it's not Google anymore: Search engine giant changes name to Topeka for a day
By Cindy Heflin
Is it a sign that Topeka will be the winner in the contest to lure Google's high-speed Internet network?
Google says not - and many in Ann Arbor hope that's true - but Google has given a tip of the hat to the Kansas town in an April Fool's Day joke, temporarily displaying Topeka on its home page instead of the familiar Google lettering.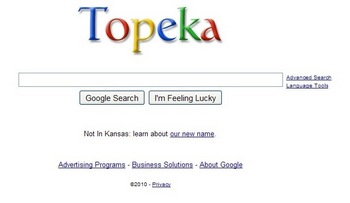 Google explains it this way in the official Google
blog
: "Early last month the mayor of Topeka, Kansas stunned the world by announcing that his city was
changing its name
to Google. We've been wondering ever since how best to honor that moving gesture. Today we are pleased to announce that as of 1AM (Central Daylight Time) April 1st, Google has officially changed our name to Topeka."
The blog post even offers some practical advice on how to use "Topeka" in conversation, as in "I did a Topeka search" and "I Topeka'ed him." Not, it says, "I topeka'd him," or worst of all, "I topeka'd him with Alta Vista."

Ann Arbor and Topeka are among cities vying to lure a fiber optic network capable of Internet speeds 100 times faster than current commercially available service. Google asked for applications from cities interested in become a site for the network. More than 1,100 communities applied.
The Google blog post says its decision to play the little practical joke will have no bearing on which communities it chooses for the high-speed network.