Posted on
Sun, Nov 29, 2009 : 9:05 a.m.
Residents in Washtenaw County subdivisions will see snow removal cutbacks this winter
By Ryan J. Stanton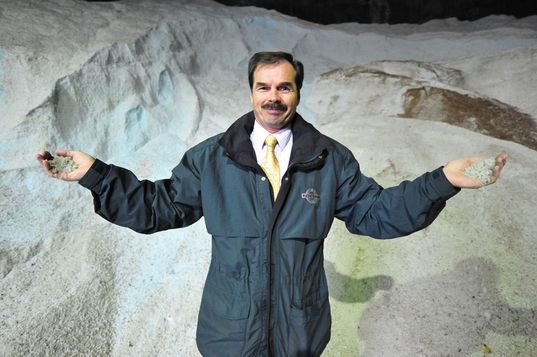 Ryan J. Stanton | AnnArbor.com
Whenever a winter storm blankets the Boulder Ridge subdivision in Pittsfield Township with snow, Ryan Collins thinks of how good he had it back in Canada.
"I'm from Canada, so I'm used to the municipal departments cleaning up the roads on a regular basis," said Collins, who moved to Washtenaw County two years ago. "Moving down here has been quite a change. It's kind of disappointing to see that they don't clear the roads well. They definitely don't do a good job."
Rick Keller, who lives nearby at the end of Starwood Court, feels the same way.
"Maybe because we're in a cul-de-sac it's even worse, but we seem to be the last one to get plowed out," Keller said. "And on big snows, we can actually be stuck in here. I can't imagine it getting much worse, to tell you the truth."
But it's about to get worse.
Citing budget constraints, the Washtenaw County Road Commission is cutting back on snow removal services on local roads this winter. The agency has adopted a new policy that prohibits sending crews out on overtime to plow subdivision streets and gravel roads unless 4 or more inches of snow has fallen - or unless there is a severe ice storm or blowing and drifting conditions.
That means on nights and weekends, township residents in subdivisions better hope it doesn't snow.
Steve Puuri, the Road Commission's managing director, said the new 4-inch threshold is a change from the 3-inch threshold put in place by the agency about three years ago. The change brings the Road Commission's policy in line with the city of Ann Arbor's 4-inch threshold for sending crews out on overtime on local roads.
In Ann Arbor, officials say the policies remain unchanged, and residents can expect the same level of service as last year.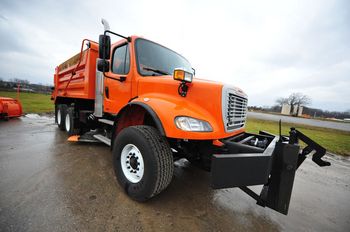 Ryan J. Stanton | AnnArbor.com
Puuri said the cutbacks are aimed at trimming overtime costs by $50,000. He said the roads impacted generally have the least traffic and have lower speed limits.
All other roads will continue to receive the same winter maintenance service levels, Puuri said.
"The public will see very little change on the major roads and freeway system," he said. "The freeways are going to be the high priority routes where we will be working overtime until the road is cleared. The secondary condition roads - and examples of that would be M-52 or Washtenaw Avenue - will get basically one pass of the road on overtime, and we would come back on the next standard work shift to finish the job."
The Road Commission has been preparing for the upcoming winter for weeks, repairing and setting up winter maintenance equipment and stockpiling salt, sand, and brine for the impending slippery road conditions.
Despite efforts to reduce overtime costs, Puuri said the agency still expects to pay more for winter maintenance this year than last year due to increasing prices for salt, fuel, equipment rental, and employee wages.
Agency leaders say salt prices are about 40 percent higher this winter. The Road Commission has already purchased 13,500 tons and plans to go through 20,000 tons before the season is over.
Ryan J. Stanton | AnnArbor.com
Puuri said the Road Commission has paid between $47 and $54 per ton for salt this year.
"It's a tremendous amount of money that gets poured out the tailgates," he said. "You're talking a million dollars."
Ann Arbor officials said the price of salt purchased by the city jumped from about $43 a ton to $55 a ton this year. The city has commitments for 12,000 tons right now.
City Administrator Roger Fraser said you won't find him singing "Let It Snow" this holiday season, but when those white flakes do touch down, city crews will be prepared. He said Ann Arbor residents won't see decreases in snow removal services this winter in the city limits.
"It's probably the most critical street service we provide to the community, and we're going to do what we can to keep the streets cleared in an emergency," he said. "And we consider snowfall an emergency."
Puuri said the Road Commission has a fleet of 46 snow plow trucks - including two new ones - that can carry salt and 11 graders used in deep snow conditions. It also has a handful of 1-ton dump trucks to help plow subdivisions.
Full-time road crews are on duty from 7 a.m. to 3:30 p.m. Monday through Friday, while a smaller night patrol shift runs from 8 p.m. until 4:30 a.m. In serious snow storms, Puuri said drivers will work 16-hour days, sometimes for days on end.
"We have enough drivers, if we call all hands on deck, to get out there and work on the conditions," Puuri said.
The Road Commission maintains 1,647 centerline miles of county roads and is contracted by the state to maintain another 581 lane miles of state highways.
Ryan J. Stanton covers government for AnnArbor.com. Reach him at ryanstanton@annarbor.com or 734-623-2529.