Posted on
Thu, Oct 25, 2012 : 1:13 p.m.
Toyota picks Ann Arbor from school districts nationwide to pilot new international program
By Danielle Arndt
Toyota Motor Corporation selected Ann Arbor Public Schools as the only district in the nation to pilot a new international, math- and science-focused program.
The partnership will give secondary teachers and administrators at AAPS access to global educational leaders in Singapore, the country currently at the forefront of science, technology, engineering and mathematics (STEM) initiatives.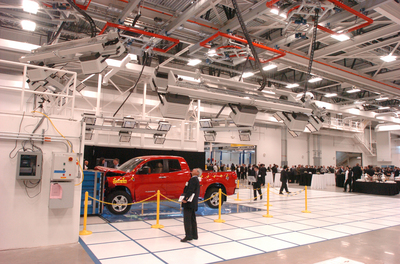 File photo | The Ann Arbor News
Teams of Ann Arbor's staff who are integral to designing and implementing curriculum at AAPS will have two opportunities to travel to Singapore as soon as April 2013 and possibly next fall, said Superintendent
Patricia Green
.
The program will strive to bring Singapore's successful instructional strategies back to Ann Arbor and, eventually, not only see measureable impacts of these techniques at AAPS, but spread these STEM strategies and initiatives nationwide, said Cynthia Mahalak.
Mahalak is the assistant manager of external affairs at the Toyota Technical Center, headquartered in Ann Arbor. The technical center is the research and development arm of the motor engineering and manufacturing corporation. Toyota also has a research and development offices in Saline, Plymouth and Livonia.
Mahalak said Toyota knows all too well the importance of developing today's children into STEM experts.
On Wednesday, the company announced it is celebrating its 35th anniversary of being in Ann Arbor. She said earlier this year, Toyota also announced a desire to hire 250 scientists and engineers at its Ann Arbor and Saline offices within the next five years.
"Our missions are the same as your missions," Mahalak told school board members and AAPS administrators Wednesday night at the board's regular meeting. "…We want to increase students' interests in pursuing engineering degrees."
While Toyota did look for communities with strong ties to the company when selecting its single school district to pilot this program in, Mahalak said it also came down to finding a district already committed to international standards and one that had a rigorous STEM base to grow from.
"It's good to hear this is something we're good at but also could be better at," said Trustee Glenn Nelson, thanking Mahalak for the opportunity.
Toyota's pilot program with Ann Arbor will replace its former International Teacher Program. The teacher program was operated jointly with the Institute of International Education (IIE), which will be a partner in the new pilot program as well. The teacher program gave educators from across the U.S. the opportunity to travel overseas to Japan, Costa Rica, the Galapagos Islands and South America to learn about cutting-edge curricula on the environment and environmental challenges, Mahalak said.
Teachers had to apply individually to participate in this program and go through an interview process.
Toyota's goal in launching this new program in Ann Arbor is to return to the areas of study that are Toyota's expertise, its bread and butter. "And to see what impacts could be made in a single district," Mahalak said.
Ann Arbor will incur none of the costs of implementing the program. Mahalak said Toyota is still in the information gathering phase, so she could not speculate on what Toyota or IIE's financial commitment to the program will be.
Green said there is no end date to the program in sight and she hopes for a long-term partnership with the automotive giant.
Green dubbed the partnership a "phenomenal" opportunity for AAPS to follow its strategic plan and enhance its STEM curriculum "above and beyond," by observing the "best practices" that the world's leading school systems are imploring. It also will give high school students the opportunity to collaborate on projects with students overseas, she said.
Danielle Arndt covers K-12 education for AnnArbor.com. Follow her on Twitter @DanielleArndt or email her at daniellearndt@annarbor.com.