Posted on
Tue, Jul 16, 2013 : 11:45 a.m.
Trayvon Martin verdict prompts residents to speak out at Ann Arbor City Council meeting
By Ryan J. Stanton
Related: University of Michigan student group to host forum and vigil on race Tuesday in response to Zimmerman verdict
The verdict that declared George Zimmerman not guilty in the shooting death of Trayvon Martin sparked a small demonstration inside Ann Arbor's city hall Monday night.
Three people — joined by a handful of other supporters — spoke out before City Council, asking council members to pass a resolution expressing "revulsion" over what happened to the Florida teenager and the verdict handed down by a jury over the weekend.
They also asked that City Council take formal action to urge state lawmakers to repeal Michigan's "stand your ground" self-defense law that has some similarities to Florida's law.
Ryan J. Stanton | AnnArbor.com
Ann Arbor resident
Lefiest Galimore
said he's concerned Michigan's "stand your ground" law basically allows anyone to have different interpretations of what a threat means.
"Anybody in this room, as we walk out of here, can see me as a threat simply because I am an African American male and decide that I pose a danger to them, and can cause me great bodily harm — even though I can be completely innocent of wrongdoing whatsoever," he said.
Even though the Michigan version of "stand your ground" is not as harsh as Florida's version, Galimore believes it still allows too much room for interpretation. He said he'd hate to see what happened to Martin happen to another young man in Ann Arbor.
One of the supporters in the group, Mozhgan Savabieasfahani, held up a sign that read: "Justice for Trayvon. Justice for the People"
Three council members — Mike Anglin, D-5th Ward; Sumi Kailasapathy, D-1st Ward; and Chuck Warpehoski, D-5th Ward — stated publicly Monday night that they'd work on a resolution addressing the issues raised by those who spoke out about the Trayvon Martin case.
Kailasapathy said she has two sons and when they saw the news that Zimmerman was acquitted, they asked why he wasn't guilty.
"I didn't know what to say," she said. "For them it was just unbelievable."
Warpehoski recalled many years ago the City Council was considering local gun regulations, but that ended up coming to a halt when the state decided local governments couldn't have more stringent gun regulations than the state. But the city still could pass a resolution encouraging the state to repeal the "stand your ground" law, and he thinks that could be helpful.
"I hope that soon ... we may have the ability to have full local control to set strong and smart guns laws here in our community," he said.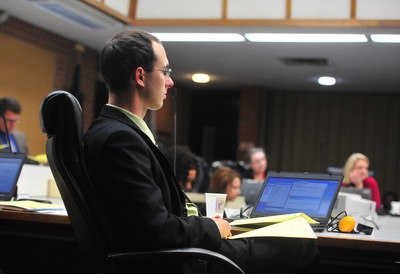 Ryan J. Stanton | AnnArbor.com file photo
Blaine Coleman
, one of the demonstrators, said the Trayvon Martin case is about racial injustice and the nation needs to rid itself of the mindset that "black life is worth nothing."
"The City Council should say black life is worth something, and this nation ought to say the same thing," he told council members.
The Rev. Jeffery Harrold of New Beginnings Community Church said Martin's death might have occurred in Florida, "but there is nothing to say that could not happen here in our own community."
Given the way blacks have been portrayed in the media and throughout history, he said, "it is all too easy for a young black man to be seen as threatening."
Harrold urged council to join those encouraging U.S. Attorney General Eric Holder to seriously consider federal civil rights charges against Zimmerman for the death of Martin.
Ryan J. Stanton covers government and politics for AnnArbor.com. Reach him at ryanstanton@annarbor.com or 734-623-2529. You also can follow him on Twitter or subscribe to AnnArbor.com's email newsletters.