Posted on
Thu, Jun 17, 2010 : 6 a.m.
Tree City: Hip hop group founded at the Neutral Zone comes of age
By James Dickson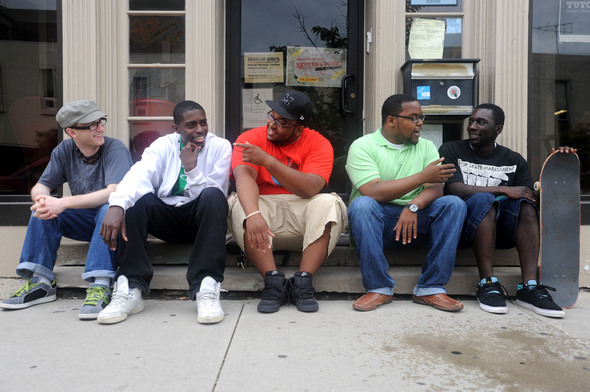 Angela Cesere | AnnArbor.com
The young men didn't know, couldn't have known, that their decision to drop in at the Neutral Zone would lead to anything more than a respite from boredom.
As the Ann Arbor teens found common ground in their mutual, yet varied, interest in hip hop, the loose confederation of Huron High students bonded into a five-man unit named Tree City in honor of their hometown.
On Friday night, Tree City will return to where it all began when the group debuts its first album, "Thus Far," before an all-ages crowd at the B-Side at the Neutral Zone.
Lessons from the road
"Never pay to play," Kyle Hunter said with a sigh as he prepared to appear on a recent episode of Lillian Dwyer's Local Music Show on WCBN Radio.
"Make them pay you," added Evan Haywood, aka "Clavius Crates," shaking his head between bites of his chicken pita.
Tree City had gone to Warren and plunked down money for a spot in a battle of the bands competition. Other groups used lip-synching and advanced through the competition. Tree City performed live and was bounced out in the second round.
Hunter, also known as "General Population," or G.P., is Tree City's front man. Hunter and bandmates Haywood, Mike "Man in Charge" Hyter and Jacoby "DJ Cataclysmic" Simmons met at the Neutral Zone in January 2006, when it was located on Main Street. Lyricist Charles "Cheeks" Cheek joined the group in 2008.
What did they learn from that night in Warren?
"The music business is about who you know, not just what you can do," Haywood said.
"And: never pay to play," he added.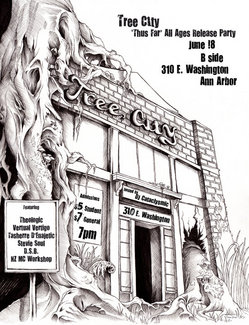 Courtesy of Tree City
Thus Far
"Thus Far" is Tree City's first full-length album and its third release.
Tree City came on the scene in June 2007 with "The TreE.P.," which reviewed well among hip hop fans and built some buzz in the local music community. One writer on RapReviews.com gave "The TreE.P." 9 out of 10 mics.
In 2008, the group followed up with the "Black Trees" mixtape, laying its raps to beats by Detroit-based producer Black Milk. Black Milk didn't collaborate directly with Tree City, but the band considers it an honor he trusted them with his beats.
The group is banking that "Thus Far" will be its turning point from an opening act to the main stage. Locally, anyway.
Beyond Ann Arbor, the hope is "Thus Far" will put Tree City on the radars of concert bookers around the state and the region.
Tree City is too young and too homegrown to talk about the cars and the girls and the money they don't have. So the group takes the honest approach in its music, as in "Transit," when they discuss life on the bus line. They're not "already home," they're coming into their own.
And Friday night at the Neutral Zone, they'll come full circle.
"It's been a long time coming," Hunter said of the album. "You'll see what we've been working on all these years."
WHEN AND WHERE
Tree City's "Thus Far" Album Release Party
When: Friday, June 18, at 7 p.m.
Where: The B-Side at the Neutral Zone
Cost: $5/student, $7/general admission; all ages admitted.
"Thus Far" offers 18 tracks, five of which were produced by either Hyter or Haywood. The group has formed cozy relationships with Southeast Michigan based artists like Nickie P and Regiment.
"Say It Again" is the album's signature hit - the encore song, the song Tree City will be performing at every concert until the next album drops.
"Soon to be a legend in my city, like Shakey Jake," Hunter says confidently on the track.
But Tree City can't stop to appreciate simply completing an album. For a time, the focus will shift to the sales job ahead as the group tries to move albums and book shows.
The next step
Haywood, who raps and produces beats for Tree City, mostly sticks to the artistic side of the operation.
"When we started, it was just about making music," Haywood said. "You'd think it's just laying a beat to the music. It's a lot more complicated than that."
"Now it's everything - going on radio, planning tours, marketing, getting albums mastered, managing a Web presence," Hunter said.
The group represents itself. If they don't hustle, they won't eat. Their music will remain a hobby and not a vocation. That wouldn't be acceptable, Cheek said.
"It's cool to have your friends and fans out showing support," Cheek said. "But when you've got people you don't even know feeling you - that's what you work for."
The only way that will happen is to grow beyond Ann Arbor. After Friday's release party and a show Sunday at The Strutt in Kalamazoo, the band is seeking other opportunities.
Several tracks on "Thus Far" include outtakes at the end. They provide a window into the friendship between the guys, one that often manifests itself in hypothetical discussions ("what would you do with $10 million?") and trivial debates, like whether Cheek was actually headlining the poetry slam where he first met the other guys.
Whether Tree City can make that hypothetical a reality remains to be seen. But listening to their music or watching the five guys interplay on stage offers a window into something deeper - something that's gotten them this far.
James David Dickson can be reached at JamesDickson@AnnArbor.com.