Posted on
Wed, Oct 13, 2010 : 9:37 a.m.
Tree Town Toy owners arrange shopping spree for dying 7-year-old cyber-bullied by neighbors
By Juliana Keeping
An Ann Arbor family wants a dying 7-year-old Trenton girl who has been cyber-bullied over her genetic disease to know this: People care.
News that Kathleen Edward's neighbors made fun of her deadly genetic condition — superimposing a skull and crossbones over the dying girl's face in a photo posted on Facebook — horrified and hurt Hans and Tricia Masing, Ann Arbor toy store owners who have two children of their own.
The owners of specialty toy retailers Tree Town Toys decided to do something. They arranged a dream day for the girl, including a shopping spree at their place.
And they're inviting the community to come along to cheer on Kathleen Thursday morning.
Her special day begins 9:30 a.m. at Tree Town Toys, 2611 Plymouth Road, in the Traver Village Shopping Center. That spree will follow a donated limousine ride from her home. She'll walk down a red carpet donated by A1 Rental. Busch's has donated hot cider and donuts for the crowd the toy store owners hope will show up.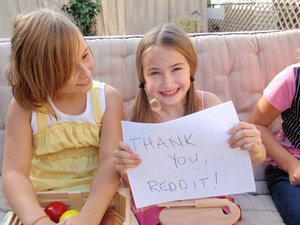 Mlive photo: Courtesy of Hans Masing
After the spree, Kathleen and her family will deliver toys from the store to children at C.S. Mott Children's Hospital. Kathleen will also be taken out to lunch for her favorite meal, steak and watermelon.
"If we're going to make her a princess for a day, let's make her a real princess," Hans Masing said. "I want hundreds of people cheering her on. Let's throw rose petals. Let's make her understand this is all about her — her day of a lifetime."
The little girl has Huntington's disease, a rare, genetic and deadly degenerative brain disease. According to news reports, the disease killed her mother.
Last week, neighbors allegedly doctored the photo of Kathleen, as well as a photo of the girl's mother, in the arms of the grim reaper, and posted the photos on Facebook. They painted a truck with death messages and put a coffin in the back, parking it in front of the family's home.
A neighborhood dispute over a birthday party allegedly sparked those actions. The couple, Jennifer and Scott Petkov, has since apologized, according to news reports.
Hans Masing is a frequent user of news aggregator Reddit, an online community that votes stories they find the most interesting to the top of the web page. Users participate in the conversation via online comments, which are also voted up or down. He saw her story posted Reddit, and posted a plea to the community there as well.
What started out as an idea to raise a few hundred dollars for the family morphed into an Internet phenomenon that's still gaining speed.
Fueled by media reports and the online community, the story made headlines across the world.
A Paypal account got $16,000 in donations in four days. Donations have come in from as far as Sweden, Norway, Australia, Pakistan and Japan, Masing said. A portion of the money will go to a fund set up to send Kathleen on a vacation, and the money not spent by her will be used to purchase toys for Mott Children's Hospital, he said.
He plans to donate any profits to the family fund.
Kathleen Edward's family was not immediately available for comment.
Juliana Keeping is a health and environment reporter for AnnArbor.com. Reach her at julianakeeping@annarbor.com or 734-623-2528. Follow Juliana Keeping on Twitter.