Posted on
Fri, Oct 28, 2011 : 2:22 p.m.
Trees cut down on City Place property: Demolition next?
By Ryan J. Stanton
Ryan J. Stanton | AnnArbor.com
The developer of
City Place apartments
moved one step closer to demolishing seven homes on South Fifth Avenue on Thursday, cutting down several trees on the property.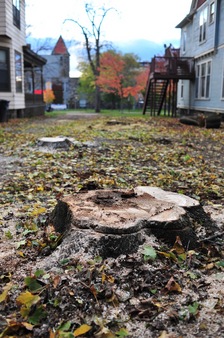 Ryan J. Stanton | AnnArbor.com
AnnArbor.com visited the site and found at least 10 trees — some of them more than two feet in diameter — reduced to stumps. At least one other tree in front of one of the homes had an orange X marking its trunk, indicating more could be chopped down.
An industrial-sized dumpster warning of dangerous asbestos also sits on the site now. Asbestos removal is expected to be done along with the demolition.
Jeff Helminski, an out-of-town developer who is heading up the project, could not be reached for comment.
Ann Arbor developer Alex de Parry, who formerly owned the rental properties and recently had the tenants move out, said clearing the trees is the first step in moving forward with City Place.
He said the trees being removed were, for the most part, invasive or "volunteer" trees. He said he left them alone in the past because they gave the houses a nice canopy.
Wendy Rampson, the city's planning manager, confirmed today City Place Ann Arbor LLC is moving forward with construction.
She said the contractor is prepping the site for demolition and the parcels have been combined. The contractor also is doing the utility shut-offs for the seven houses, but no demolition permit applications have been submitted yet.
The next steps, Rampson said, are completion of an administrative amendment to the site plan, which is still under review for minor changes to the site, recording of the development agreement, and construction of a segment of water main and new hydrant.
Construction permits have been submitted and will be reviewed by the city's staff concurrently with those activities, Rampson said.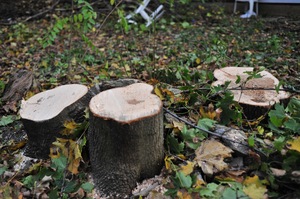 Ryan J. Stanton | AnnArbor.com
The approved plans include constructing two box-like student apartment buildings containing 24 units with 144 beds and a 36-space surface parking lot.
A majority of Ann Arbor City Council members this week rejected a proposal to reexamine the historic significance of the Germantown neighborhood where the houses stand.
Washtenaw County Clerk Larry Kestenbaum has joined the ranks of those citizens lobbying the City Council to save seven century-old homes from the wrecking ball.
Kestenbaum sent the mayor and council an open letter on Thursday, making a case for preserving the homes on the 400 block of South Fifth Avenue.
Ryan J. Stanton covers government and politics for AnnArbor.com. Reach him at ryanstanton@annarbor.com or 734-623-2529. You also can follow him on Twitter or subscribe to AnnArbor.com's e-mail newsletters.