Posted on
Wed, Jan 30, 2013 : 4:14 p.m.
Officials: Trenton teenager Nathan Tracy accidentally drowned in Pittsfield Township retention pond
By Kyle Feldscher
A comment from Public Safety Director Matt Harshberger has been added.
Almost five months after his death, Washtenaw County Medical Examiner's Office officials said Nathan Tracy accidentally drowned in early September.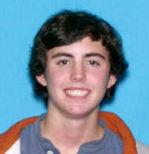 Tracy, 19, was discovered dead in a retention pond Sept. 8 at the Weatherstone Condominiums after a multiple-day search in Pittsfield Township. He was last seen at 11:30 p.m. Sept. 5 after crashing his Ford Focus into a parked truck near Ranchero Drive near Oak Valley Drive.
Tracy spoke with a bystander before walking away from the crash, police said. That was the last time he was seen alive.
The ruling from the medical examiner's office wraps up the police investigation. Police said there is no criminal investigation into Tracy's death and the case has been reviewed by the Washtenaw County Prosecutor's Office.
John McNally, an attorney representing Tracy's family, was not immediately available for comment Wednesday afternoon.
Tracy was reportedly visiting friends in Ann Arbor before the crash. A search took place in the ensuing days involving dozens of volunteers, a Michigan State Police helicopter and police dogs, along with many investigators.
A maintenance worker at the Weatherstone Condominiums eventually found his body just after 10:30 a.m. Sept. 8. Investigators confirmed Tracy's identity in the days following the discovery through dental records.
At least two toxicology reports have been ordered, but the results have not been made public.
Pittsfield Township Public Safety Director Matt Harshberger said Tracy did not suffer any major injuries in the crash.
"There were no significant injuries," he said. "There were minor things that go along with a crash of that type, but noting that would have contributed to his drowning. As far as I can tell, there was no connection with the crash itself and the drowning.
Harshberger said around the time of the crash there was evidence Tracy was intoxicated. The nature of that evidence has not been released to the public.
Kyle Feldscher covers cops and courts for AnnArbor.com. He can be reached at kylefeldscher@annarbor.com or you can follow him on Twitter.