Posted on
Tue, Feb 9, 2010 : 9:25 a.m.
Police investigate fatal accident on eastbound I-94 near Ypsilanti
By Lee Higgins
A garbage truck T-boned a vehicle this morning, killing a 35-year-old Ypsilanti woman on I-94 near Michigan Avenue in Ypsilanti, troopers said.
The accident was reported about 9:17 a.m., and all eastbound lanes have been shut down, dispatchers said. Police did not have any other details.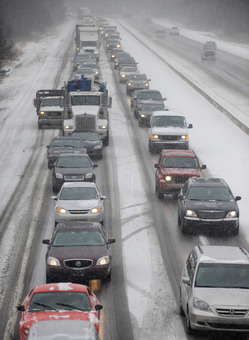 Angela Cesere | AnnArbor.com
No other fatalities have been reported to the state police Ypsilanti post this morning.
However, state police and other agencies are investigating numerous crashes around the county, resulting from the slick conditions.
Ann Arbor police responded to two accidents this morning.
In Ann Arbor, a truck hit a guardrail on M-14 near Maple Road about 8:34 p.m., but police did not have information about any injuries.
About 8:39 a.m., a two-car accident was reported at Madison and South Main streets, but there were no reported injuries.
As of 9:49 a.m., Ypsilanti police had not received any reports of accidents, Sgt. Kevin Dorsey said.