Posted on
Sun, Jul 28, 2013 : 5:58 a.m.
Trouble in Tree Town: Ann Arbor has backlog of 1,400 dead and dying trees on removal list
By Ryan J. Stanton
Ryan J. Stanton | AnnArbor.com
Ann Arbor
might be affectionately called
Tree Town
, but many residents and city officials agree the city has fallen behind on taking care of its dense green canopy.
The city's forestry department has been cut back over the years as budgets have tightened, and it's been years since the city proactively trimmed trees that line city streets.
Hundreds of dead and dying trees — their branches absent leaves even in the summertime — can be found along streets in neighborhoods throughout Ann Arbor.
"It's pretty much an epidemic," said Nick Sochacki, who lives near Virginia Park on Ann Arbor's west side and has noticed a large number of dead and dying maple trees.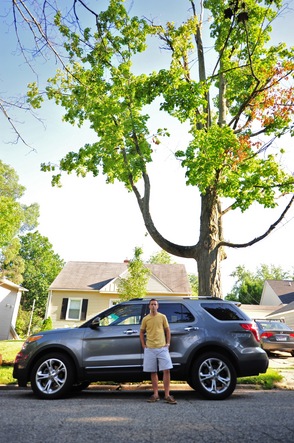 Ryan J. Stanton | AnnArbor.com
There's a backlog of roughly 1,400 street trees that are on the city's removal list right now, said
Kerry Gray
, the city's urban forestry and natural resource planner.
"We're trying to get a better handle on that," she said. "There's definitely more work to be done than we have the staff resources to accomplish."
Gray said about 800 of the trees on the removal list are considered lower priority because they're smaller or were planted in recent years, but many others are decades old and tower above neighborhood streets and sidewalks.
Sochacki said it seems the city marks some of the same dead trees year after year and doesn't follow through with removing them. He considers it a dangerous situation.
"There are so many of these trees that are dropping branches all over," he said, noting limbs from a dying tree in front of his house have fallen and damaged cars.
The city's removal list includes more than 3 percent of the 41,000 street trees the city manages. The city also manages about 6,600 park trees and tens of thousands of trees in natural areas.
Gray said the city is losing about 1 percent of its street tree population each year — or roughly 400 to 500 trees per year. She said the city has been able to remove about 500 trees each of the last couple years, and that's the plan this year as well, so the backlog isn't going away soon.
Multiple storms this year have caused hundreds of weak and dead limbs to break free from trees the city is responsible for maintaining.
In some cases, branches have fallen and damaged cars parked on city streets. And more recently, a 61-year-old woman was hospitalized with a mild concussion and a knee injury after dodging a falling tree branch on Glendale Drive in the Virginia Park neighborhood.
A man who lives on the block said the tree had been dead for some time and was reported to the city about two months before the July 9 incident.
Gray confirmed the tree was reported at the end of April and was evaluated two weeks later. The tree was marked for removal then, she said, but it wasn't deemed an immediate hazard. The city finally had the tree reduced to a stump within a day or two after the woman was injured.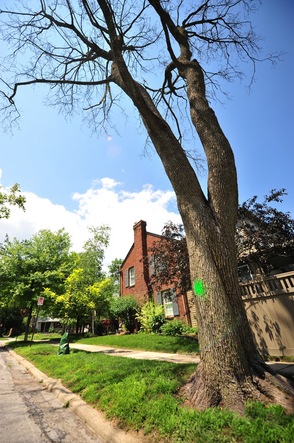 Ryan J. Stanton | AnnArbor.com
The city tries to get out to evaluate trees reported by residents within two weeks, Gray said, but that depends on the workload.
Once the city has determined a tree needs to be removed, it often will be marked with a large green dot. The city is trying to get newly dotted trees removed within three months, Gray said, but there are dead trees with dots from years past that remain standing.
City Council Member Mike Anglin, D-5th Ward, said dead and dying trees are a big concern for him, and he alerts city staff when he sees them.
"It is an emergency," he said. "I think the community expects the trees to be better taken care of — period."
Council Member Stephen Kunselman, D-3rd Ward, said he has noticed a number of dead and dying trees as he's been out campaigning this summer.
"There's a need for the city's forestry department to step up a little bit," he said. "As a former intern of the city forestry department, it's very sad to see how it has been cut."
Matt Warba, the city's field operations manager, said the city had 15 full-time forestry employees in 1999 and now it has 10. Park operations went from 25 to 10 FTEs in that same time.
"Currently we have three people who are very well suited and capable of doing large tree removal or whatever tree issues come up," Warba said, adding the city also relies on the help of field operations technicians, temporary employees and private contractors to carry the workload.
Gray said the forestry department's budget amounts to about $1.8 million this year, which is down slightly from last year.
John Bassett, a retired University of Michigan forestry professor, said he's been in Ann Arbor since 1967 and he remembers when the forestry department was much more robust.
"I think what the forestry department has lost is a lot of experience and bodies, so they simply don't have the personnel to do all the work," he said.
Ryan J. Stanton | AnnArbor.com
Bassett said the city could be a lot more proactive about trimming trees and preventing rotten limbs from posing risks.
"If they had adequate money and personnel, you'd have people out there looking at these things and getting to them more quickly," he said. "Sometimes it's difficult to tell if a limb has internal rot. I just don't think they've got the personnel to spend the time checking."
The city acknowledges its forestry program is best described as reactive these days, with field activities driven by citizen service requests and emergencies. And city officials know having a reactive program can negatively impact the overall condition and sustainability of the urban forest.
Gray said there always are gong to be challenges when managing as many trees as the city does, but the invasion of the emerald ash borer in recent years really set the city back. She said basic maintenance was deferred while the city tackled the removal of thousands of ash trees.
The city still is working to make up for that loss, planting thousands of new street trees. The city recently signed a $509,125 contract with Margolis Companies Inc. to have another 1,750 trees planted along city streets over the next two years.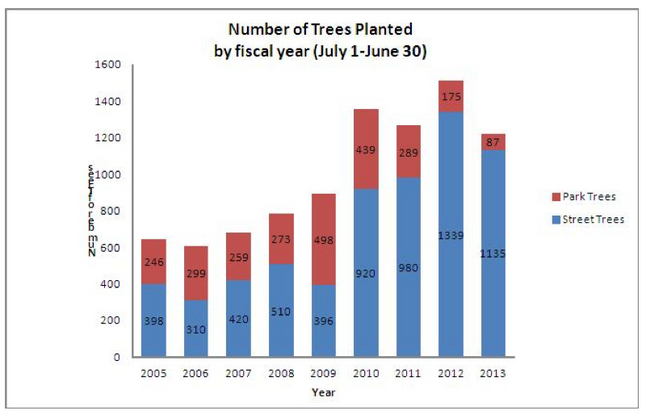 City of Ann Arbor
The city also has been working for more than three years on developing an
Urban Forest Management Plan
to provide a framework for effective management of city trees. A 22-page draft report containing several recommendations is now available on the city's website.
The first recommendation is to implement a proactive tree maintenance program, emphasizing routine pruning, removals and care to improve the health and sustainability of the canopy.
The plan states current funds don't support all of the work that needs to be completed and the maintenance backlog increases every year.
It notes more trees are added to the priority prune list each year than the city is able to prune, and that's causing a gradual decline in the quality and condition of the city's tree canopy.
The plan, which recommends more funding to support increased forestry services, is expected go to the City Council in January after being reviewed by various city commissions.
Mayor John Hieftje agreed the city needs to start putting more resources into forestry and do a better job of both routine trimming and removal of dead and dying trees.
"I'll be pushing for that and discussing it closely with staff," he said. "Because it seems to me that we don't have the handle on it that we should."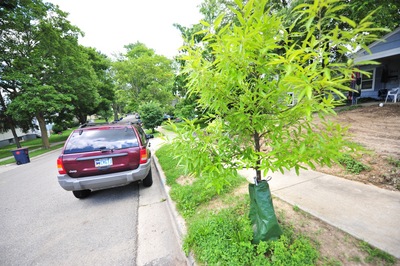 Ryan J. Stanton | AnnArbor.com
Gray, who came to the city in 2008, said 2004 was the last year city trees were on a routine, 10-year pruning cycle, and then the city got sidetracked with the emerald ash borer.
Routine pruning makes trees less prone to storm damage, which city officials believe will be important with future forecasts anticipating increased frequency and intensity of storms.
The city estimates its trees provide millions of dollars worth of benefits each year, helping to manage stormwater, improve air and water quality, lower energy costs and increase property values.
Two years ago, the city reallocated expenses for street tree operations to the city's stormwater utility fund, which freed up room in the city's general fund. That was partly a recognition that the city's publicly managed trees intercept an estimated 65 million gallons of stormwater each year.
Sue Perry, who lives near Virginia Park and helped organize the Ann Arbor Tree Conservancy about four years ago, said she can't help but think if the city still cared for trees like it used to before budget cutbacks, it wouldn't have so many dead and dying trees to worry about.
She called it "shameful" that Ann Arbor still touts its Tree City USA designation, which it first earned 32 years ago. Cities earn the designation from the Arbor Day Foundation for sound urban forestry management, and Perry doesn't think Ann Arbor can claim that anymore.
"We used to have a real forestry department with longtime people who practically knew every tree in this city, and they did preventative maintenance," she said. "Everything is done on a crisis basis now and they can't even get to the trees that are marked for removal."
Ann Arbor residents with concerns about a city-managed tree are encouraged to contact the forestry department at 734-794-6364 or submit an online service request.
City of Ann Arbor
Ryan J. Stanton covers government and politics for AnnArbor.com. Reach him at ryanstanton@annarbor.com or 734-623-2529. You also can follow him on Twitter or subscribe to AnnArbor.com's email newsletters.