Posted on
Mon, Jul 30, 2012 : 8:07 p.m.
Truck-bike crash kills Pete Cornell, former U-M wrestler, Ann Arbor real estate professional
By Cindy Heflin
Bud Church often had an uneasy feeling when his friend Pete Cornell struck out on one of his cross-country bicycle trips.
"I can't tell you how many times I told him not to do that," said Church, who feared for his friend's safety. He had spoken to Cornell a couple of days before he set out about a month ago on his last trip, a grueling 3,500 mile trek from Alberta to Key West, Fla.
"I said, 'Pete, how many more of these trips are you going to do'? He said 'this is my last one. I've accomplished everything I wanted to accomplish.'"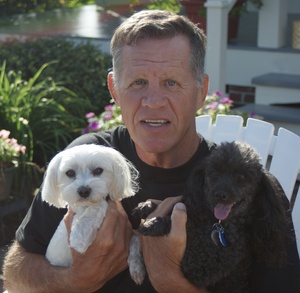 Photo courtesy of Bud Church
Cornell, 64, an avid biker, died Thursday when a semi tractor-trailer rig slammed into the back of his bike. Cornell and his two companions, riding about 100 miles a day, already had come nearly 2,700 miles and were about 790 miles from their goal, said Cornell's son, Dan Cornell.
Cornell and his companions were headed east on Highway 520 near Dawson, Ga., just before daybreak when the truck struck them, the Albany Herald reported. Thomas Clark, 62, of Munith, Mich, was seriously injured, Dan Cornell said. Joseph Muscato, 60, of Grass Lake was less-seriously injured and is no longer hospitalized, Cornell said. Police were still investigating the crash and had not determined whether the driver would be charged, the newspaper reported.
Cornell, who spent most of his life in Ann Arbor before moving to Port Charlotte, Fla., in his retirement, had biked to all four corners of the United States, Church said. This last trip was a continuation of one he, Clark and Muscato started last year when they biked from Prudhoe Bay, Alaska, to Calgary.
Cornell and his riding companions always wore helmets and reflective clothing and lights, Church said, but he doesn't think his friend worried about being in danger. "Pete just thought he was invincible," he said. "He never thought anything like that would happen. If he did he never admitted it."
Cornell, who took up biking in retirement, was an accomplished wrestler in high school and college and was a three-time All American at the University of Michigan and captain of the team in 1968 and 1969. He was the runner-up for NCAA wrestling champion in 1969. A graduate of Lansing Everett High School, he was the Michigan high school wrestling champion in 1965.
Cornell also played football at the University of Michigan, but when forced to choose between the two sports, chose wrestling, Dan Cornell said. In 2010, he was inducted in the Greater Lansing Area Sports Hall of Fame.
After college, Cornell had a successful real estate career. He was owner of Cornell-Morris Real Estate Company. He was CEO of the Ann Arbor Area Board of Realtors from 1995 to 2004 and executive vice president from 1992 to 1994. He was a past president of the Michigan Association of Realtors, and served on the board of the National Association of Realtors.
It was at National Association of Realtors meetings that Cornell and Church developed their friendship. Church said his friend had a wonderful sense of humor and loved practical jokes. "Not on him," Church said, "but he loved pulling them on someone else."
Dan Cornell said his father was an avid dancer and played the piano and guitar. He also liked to fish and play cards and doted on his dog, Buddy.
"I don't think he loved anything more than his little dog, Buddy," Church said.
But athletics and physical fitness were Cornell's true passions, his son said. "He was very driven and that's why it was so sad that he didn't finish the ride."
That fact bothers him so much that Dan Cornell, though he hasn't been on a bike in 20 years, said he plans to pick up the ride from the last hotel his father stayed at and finish it in the next few months.
"I'm doing it just because he can't," he said. "I think it help me get a little bit of closure."
Besides his son, Cornell is survived by his partner, Sue Pavlat; daughter, Amy Armstrong; sisters, Jean Chapman, Dorothy Hays and Barb Fowler; and four grandchildren.
A memorial service will be held at 3 p.m. Friday at Bethlehem United Church of Christ in Ann Arbor. Calling hours will precede the service at Muehlig Funeral Chapel 1 p.m. until 2:30 p.m. A memorial service is also being planned in Englewood, Fla., for Aug. 10.
Read Peter Cornell's obituary.