Posted on
Tue, Sep 27, 2011 : 11 a.m.
Trumpeter in U-M Marching Band killed in crash on US-23
By Paula Gardner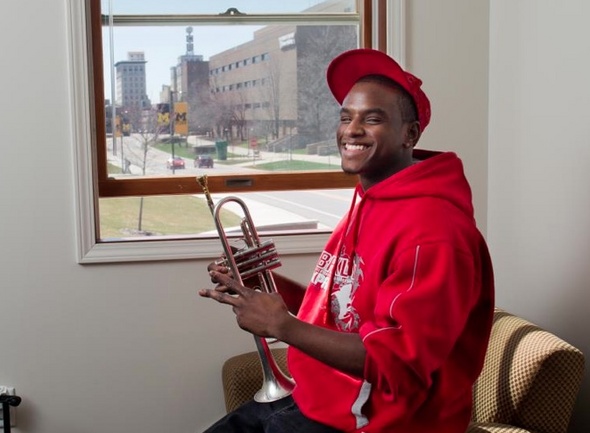 From Facebook
The death of a University of Michigan
trumpeter
on Monday is "utterly devastating" to the 370-person
marching band,
officials said.
Patrick Fleming, a University of Michigan-Flint sophomore living in Ypsilanti, was killed Monday morning on US-23 near Fenton, according to a report from the Flint Journal.
Police said the 1994 Oldsmobile Bravada Fleming was driving struck the back of a vehicle that was in a construction zone backup in the northbound lanes of the highway near Owen Road.
His mother called band officials at about 1:30 Monday to tell them about his death, said John Pasquale, associate band director.
"It was a devastating shock," Pasquale said.
Fleming, a Pioneer High School graduate, was a dedicated band member who set his goal to march with U-M while studying at Pioneer, Pasquale said.
"He came to us and asked if students who aren't enrolled on the Ann Arbor campus ... could participate," Pasquale said. "... He was a fabulous trumpet player. He made the band, and spent two years with us."
Fleming studied at U-M's Flint campus and worked full-time at a retirement home, Pasquale said, while making time for the 90-minute daily band practices in Ann Arbor.
He also lived in Ypsilanti with his twin brother, Pasquale said.
"He was busy, for sure," Pasquale said, "with his academics and performance schedule, and trying to put himself through school."
Marching band members were told of the accident at the Monday afternoon practice, though about half of them had already heard the news, Pasquale said. Counselors attended the practice as well.
Band officials still don't know details about the crash, Pasquale said. They're also awaiting news of Fleming's memorial service.
In the meantime, they're pulling together plans to honor his memory.
"We will be honoring him in some way at the football game on Saturday," Pasquale said.
The loss already is felt among his bandmates, Pasquale said.
"Patrick was a wonderful person," he said.