Posted on
Wed, Jun 20, 2012 : 12:11 p.m.
Tuesday heat in Ann Arbor ties 1995 record of 95 degrees
By Katrease Stafford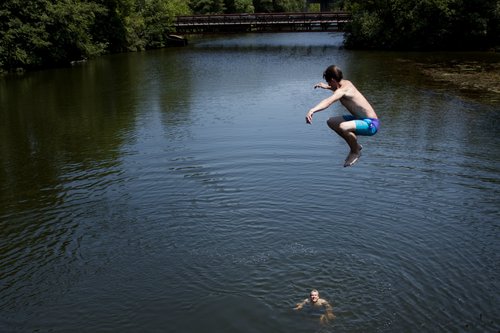 Jeffrey Smith | AnnArbor.com
Tuesday's sweltering heat in Ann Arbor tied the June 19, 1995 high temperature record for 95 degrees, and today has already been declared an ozone action day, said University of Michigan Weather Observer Dennis Kahlbaum.
"Any time we get into the 90s, there's warnings out for people that may be more susceptible to high temperatures," Kahlbaum said. "That always goes hand in hand."
Pollutants are expected to be in the unhealthy range for sensitive groups.
The action day is in effect for the following Michigan counties: Lenawee, Livingston, Macomb, Monroe, Oakland, St Clair, Washtenaw and Wayne.
This is the fifth air quality alert for Washtenaw County so far this year, with other recent ones occurring on Friday and Saturday.
Kahlbaum said Tuesday's forecast was spot on and the clear, sunny skies contributed to the record being tied.
Tuesday's heat felt a bit hotter than the actual temperature because of the 98 degree heat index.
The expected temperature for today is 93 with wind speeds between 10 and 25 mph. Although it might be somewhat breezy, Kahlbaum said it will be slightly more humid today than it was Tuesday and the heat index will be higher.
Kahlbaum said he doesn't believe today's heat will break the 1953 record of 97 degrees.
For updated weather conditions anytime, visit AnnArbor.com's weather page.