Turning 105 before Mother's Day, Gladys Gotts shifts to overdrive
Posted on Sun, May 9, 2010 : 10:56 a.m.
Defying concerns about her strength, Gladys Gotts cruised through Tuesday afternoon's birthday party just as she's churned through everything else in these last 105 years.
Gotts, a resident of Superior Woods since 2005, welcomed about 50 friends and family members to share a piece of marble cake covered with butter-cream frosting.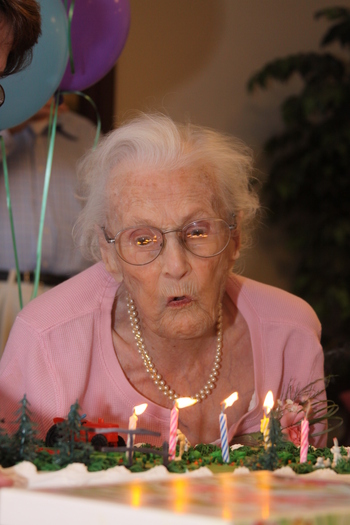 Ronald Ahrens | For AnnArbor.com
"I think this is great," she said in a quavering, sparrow-like voice.
Taking two well-deserved attempts, she puffed out five candles that represented her centenarian's surplus.
A plastic farmer plowed through a frosted field of carrots, commemorating her many years of farming.
Her parents, Herman and Ethel Kincaid, bought a Superior Township farm when Gladys was a girl.
She and a classmate rode horses to the old Ypsilanti High School.
Sometimes, they were conveyed in a horse-drawn buggy.
Gladys married Percy Gotts in 1923, and they farmed with his parents on North Ridge Road in western Wayne County. Around 1940, after the death of Percy's father, the couple took ownership of the 80 acres.
Melons and sweet corn grown on this farm were sold in Detroit's Eastern Market. A dairy herd provided milk. And the cash crop of sugar beets that Percy forked out of the ground was delivered to a mill in Mount Pleasant.
Percy and Gladys produced three daughters. The oldest, Betty DeKarske, died in 1980. Dorothy Richards, 77 years old, lives two miles from where she was born and sees her mother several times a week.
The youngest daughter, Joyce Gyde, 70 years old, has a home in Texas.
There are five grandchildren and nine great-grandchildren.
The Gotts' farm was outfitted with one of the early Delco electrical generating systems, and the main kitchen was converted to this power source. A back kitchen, equipped with a pot-bellied stove, served for summer cooking.
Dorothy Richards said these were the happiest years of her mother's life.
But things changed after Percy Gotts died of heart disease in 1955.
Gladys stayed in the old house until 1973. The farm's sale led to the development of Knollwood Memorial Park.
A succession of addresses never quite satisfied her yearning for the farming life.
As recently as 2005, when she was 100 years old, she still lived in her own condominium in Plymouth. Then she broke her hip in a fall.
The surgeon "had never seen an elderly woman heal as quickly as she," Richards said. "But her body was pure."
Gotts entered the Superior Woods facility. She no longer can walk, but her hearing and vision remain sharp. Richards said she enjoys a great appetite, especially for the old farm feast of roast beef, potatoes and gravy.
Occupational therapist Elizabeth White said Gotts diligently toils at everyday tasks such as bathing and dressing.
"She's a hard worker, even compared to younger residents," White said. "She always refers to working on the farm."
Gotts' granddaughter Polly Bradburn, of Chelsea, remembered when her grandmother reached her 80s and annual birthday parties started up. "See you next year," Gotts would say.
Bradburn said, "I hope I age as well."