Posted on
Sun, Mar 4, 2012 : 5:58 a.m.
Two centenarians at Ann Arbor's Brookdale Place to celebrate 100 years and counting
By Janet Miller
The year Bertha Piziali was born, the great RMS Titanic made its first, and last, voyage.
Over the years, Piziali would witness history unfold.
She remembers the weekly delivery of groceries in a horse-drawn wagon to her childhood home in Ishpeming in the Upper Peninsula.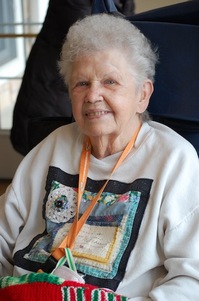 She remembers driving her father's first car, a 1924 Ford. She was only 12 years old at the time.
She remembers walking 14 miles into town to see a Clark Gable movie.
She remembers the day when Charles Lindbergh flew solo across the Atlantic Ocean, from New York to Paris. "It was 1927, I think," she said. She's right.
And she remembers how neighbors gathered around her family's 7-inch television, curious to witness this magic new-fangled machine.
On March 13, Piziali will join the elite but growing population of centenarians. The United States has close to 75,000 people who have reached this mark, while the world counts more than 450,000.
Piziali won't have to look far for company. Audella Lemen turns 100 March 12. The two women live at Brookdale Place, a senior living center on Ann Arbor-Saline Road. They are Brookdale's first centenarians, said Susan Hunt, life enrichment coordinator. Lemen, born in Whitmore Lake, was unable to be interviewed.
Born on March 13, 1912, in Ishpeming in the Upper Peninsula, Piziali has a memory that's as clear as her steely blue eyes. Her father worked in an iron ore mine, one of the few places a man could find a job. "That's all there was up there," she said.
Piziali attended beauty school in nearby Marquette and worked as a hairdresser. At 19, she married, S. Joseph Piziali, whom she had known since childhood. They would soon move to Dearborn, where he could find work as a mechanic at Ford Motor Company. "There was no industry up there," Piziali said.
In Dearborn, she had three children — six years between the first and second and 11 years between the second and third. "It was like having three families," Piziali said. And she would eventually own Dorothea's Beauty Salon with a partner. "We didn't want to change the name of the salon because everyone knew it as Dorothea's," she said.
Piziali said she has no real secrets for living a long life: She never smoked and she drank only socially. "I lived an easy life, really. A normal life. But if anyone had asked me if I was going to be 100, I'd say impossible," she said.
The years, of course, haven't been all kind. Her oldest daughter died from complications from diabetes and she's lost her siblings and friends. "All of my friends are gone," Piziali said. "I'll be thinking about so-and-so wondering about them and then I'll remember that they're dead. It's kind of sad."
She's needed to use a wheelchair for the past couple of years when her legs gave out, and that's bothered her. "I was a very active person," Piziali said. "But my son keeps telling me to look at how many years that I was able to walk."
It hasn't stopped Piziali from being active. She goes out to lunch once a week, knits blankets for good causes and was scheduled to visit the Detroit Institute of Arts last week.
Family members will come from out of town to celebrate her 100th birthday, Piziali said. There will be a celebration at Brookdale Place March 11, Hunt said. Piziali also said her daughter, who lives in Ypsilanti, has made surprise plans for her birthday. "My daughter has said not to ask any questions," Piziali said. "That she will take care of it. So I've put a zipper on my mouth. But I am curious."
Janet Miller is a freelance writer for AnnArbor.com. To reach the news desk, email news @annarbor.com or call 734-623-2530.