Posted on
Thu, Jul 15, 2010 : 5:13 p.m.
Steve Bean files to run for Ann Arbor mayor in November as independent candidate
By Ryan J. Stanton
(This story has been updated to include comment from the city clerk and William Bostic Jr., who has dropped out of the race.)
Two independent candidates hoping to become Ann Arbor's next mayor filed petitions with the city clerk's office today to appear on the November ballot.
But it appears now only one of them will run.
Today was the filing deadline for nonpartisan candidates. Both Steve Bean and William Bostic Jr. turned in nominating petitions to run for mayor.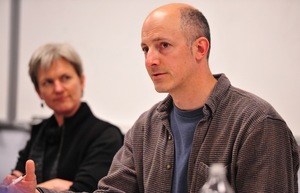 Ryan J. Stanton | AnnArbor.com
City Clerk Jacqueline Beaudry said at 5 p.m. today her office still was checking the petitions. But on a cursory review, she said, there were multiple signers with incomplete, undated, or wrong jurisdiction errors on Bostic's petition sheets, so it was possible that he would not be certified to run.
Beaudry said it also was too late to file any supplements.
Bostic, who graduated from the University of Michigan in May, told AnnArbor.com at 5:30 p.m. he would be dropping out of the race.
He said it was partly due to the filing snafu and partly because he realized he wasn't experienced enough. He said he recently was accepted to grad school in U-M's master's in urban planning program and decided he couldn't take on both school and politics.
"I feel I need to learn more," he said. "But it's been a great learning experience, I'll say that. And this is not the last you'll hear of me. I can promise you that."
It appears likely that Bean will take on the winner of the Aug. 3 Democratic primary, which features a heated bout between Mayor John Hieftje and challenger Patricia Lesko.
Bean, chairman of the city's Environmental Commission, works for Berg & Associates Inc. of Ann Arbor as a consultant designing database management systems.
He has served on the Environmental Commission since its inception in 2000 and also served nine years on the Energy Commission.
Bean spoke with AnnArbor.com after filing today. He had been circulating petitions since March and turned in 340 signatures.
"I'm running for mayor because it's the next thing I can do for the community with my experience and my knowledge and my skills," Bean said. "I'd like to bring the work I've done with the Environmental Commission and with different community groups to the mayor's office, and work with council on helping the city move toward sustainability, and beyond that to a regenerative community that improves the environment and improves social equity and improves the economic vitality of our community."
Bean said he's happy to give voters the choice of a viable candidate in November, which is unusual in Ann Arbor, where races typically are decided in the Democratic primary.
Running as an independent, Bean said he'll be thinking in terms of representing all citizens regardless of anyone's party affiliation.
Bean, 46, said he's not yet ready to lay out the details of his platform or discuss specific initiatives. But he promises he'd be a mayor with integrity and says he considers himself a creative thinker.
Asked how he differs from Hieftje, Bean said that's a difficult question to answer. He thinks there are subtle differences in style.
"I'll bring my own flavor if elected," he said, adding that he thinks he would communicate his thoughts with residents better than Hieftje.
Bean also said there are decisions he would have made differently than Hieftje. Bean was one of the people to appear before the City Council and ask the city to postpone constructing the underground parking garage now being built on the Library Lot downtown.
Bean also said he would take a more cautious approach to the Percent for Art Program, a council-approved initiative to take 1 percent of money spent on capital projects and set it aside for public art. Bean thinks the program is possibly illegal since it involves diverting money from dedicated funds, and he would look into putting it up to a vote of the people.
Ryan J. Stanton covers government and politics for AnnArbor.com. Reach him at ryanstanton@annarbor.com or 734-623-2529.