Posted on
Sat, Feb 6, 2010 : 2:30 p.m.
Missing 14-year-old girl found safe; Ann Arbor police say 2 men facing charges
By Lee Higgins
An exhaustive search for a missing 14-year-old girl ended today when Selena Leroux Riggins walked into the Eastern Michigan University Department of Public Safety and said, "Here I am," police say.
Two men believed to be with Riggins for part of the week have been arrested. One was criminally charged today, and the other is jailed pending charges.
Police say Riggins and a 15-year-old friend met two 25-year-old men on an Ann Arbor Transportation Authority bus earlier in the week. By Thursday, one girl reported she had been sexually assaulted by at least one of the men, and Riggins was missing.
Wayne William Rankin, 25, of Ypsilanti, surrendered Friday evening after his picture was broadcast in conjunction with an Amber Alert seeking Riggins. He was arraigned at the Washtenaw County Jail Saturday on a charge of first-degree criminal sexual conduct during the commission of a felony.
Woodrow Roosevelt Williams II, 25, of Ypsilanti, who also was wanted in the case, turned himself at about 11 a.m. Saturday, Ann Arbor Police Det. Bill Stanford said. Williams has not been yet been criminally charged as prosecutors review the case.
More than two hours after Williams surrendered, Riggins showed up at the EMU police station. Stanford said she was unharmed, but was being evaluated at a hospital.
Police declined to say exactly where Riggins had been staying since she was last seen Thursday in downtown Ypsilanti. She left her native Canada recently to move in with an aunt in Ypsilanti, but ran away earlier in the week because she didn't want to return to Canada, Stanford said.
Police said Riggins and the other girl spent at least part of the week with Rankin and Williams.
On Wednesday evening, the four went to A Victory Inn and Suites, a hotel in the 3700 block of Washtenaw Avenue in Ann Arbor, just west of U.S.-23, police said. At least two sexual assaults involving at least one of the girls have since been reported.
The 15-year-old girl told police Thursday night she "woke up" in Ypsilanti near Washtenaw Avenue and North Mansfield Street after being sexually assaulted by at least one of the men.
Police say she was dropped off in Ypsilanti, but it's not clear who dropped her off. Detectives are investigating to determine whether she was given drugs prior to the assault.
Stanford said Williams will likely be arraigned Sunday or Monday. Rankin is being held on $25,000 cash bail and is scheduled to return to court Feb. 17 for a preliminary exam.
Rachael Cox, who has been dating Rankin for six months, attended his arraignment today. She said she had never heard of Riggins until the Amber Alert was issued and was shocked by the allegation.
"I can't freaking believe it," she said. "We've been together for a while and he's never shown aggression. We've had arguments, but he's never done anything like that."
Rankin has a 5-year-old son and 4-year-old daughter. He said in court today he has no felony convictions, recently enrolled at the University of Phoenix and lives with his grandparents in Ypsilanti. A judge appointed Rankin a public defender and ordered that he have no contact with the victim.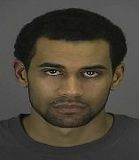 Cox said Rankin and Williams have been friends for at least seven years. She said police knocked on her door late Thursday night at Sycamore Meadow Apartments in Superior Township, but she didn't answer.
Cox, 19, said Rankin wasn't at her apartment. He told her he stayed with his brother Wednesday night and Thursday night, she said.
On Friday morning, Rankin stopped by her apartment about 9 a.m., and she told him police had knocked on the door.
"After I told him about the police coming, it didn't really faze him," she said.
Cox said she dropped Rankin off at a bus station in Ypsilanti about 10 a.m. Friday, and he planned to go to Ann Arbor to a homeless shelter where he stays sometimes. Rankin called her about 11 a.m. Friday from a "restricted" number, and she couldn't call him back.
"He said, 'Rachael, the police are looking for me," she said. "My boy Woody is in some (expletive) right now, and they're accusing the both of us."
"He didn't want to tell me the charge and he hung up."
Rankin has been dealing with mental health issues and was working to get his life on track, Cox said. She said she thought he was making progress.
"I just can't believe it," she said. "I know he wouldn't do something like that."
News Director Amalie Nash contributed to this report.
Lee Higgins covers crime and courts for AnnArbor.com. He can be reached by phone at (734) 623-2527 and email at leehiggins@annarbor.com.