Posted on
Thu, Jun 20, 2013 : 6:20 p.m.
Dave Brandon projects $137.5M University of Michigan athletic department budget
By Kellie Woodhouse
University of Michigan athletic director Dave Brandon on Thursday presented a $137.5 million fiscal 2013-14 athletics budget, saying his department is financially stable but expensive to run.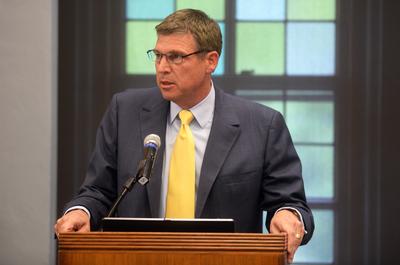 Melanie Maxwell | AnnArbor.com
Brandon told the University of Michigan Board of Regents he is expecting $146.4 million in revenues next year, allowing for a $8.9 million surplus.
Next year's budget is $11.6 million more than the this year's $124.5 million budget. This year the athletic department ended up spending $1.3 million less than expected.
Brandon expects $49.3 million in revenue from game tickets and $33.2 million in donations for preferred seating and other gifts. The ticket revenue is derived mainly from football, basketball and hockey games and is increasing $4.6 million over 2012-13. The athletic department raised the price of student tickets for home football games 23 percent this year and increased seat donation prices for most football season ticket holders.
Another reason for the revenue increase: the 2014 National Hockey League Winter Classic is scheduled for the Big House in January. The event was scheduled for 2013, but was canceled due to a league lockout. The NHL has agreed to pay U-M $3 million for use of Michigan Stadium.
"It feels really good now that it's back," Brandon said.
The athletic department's largest expense is wages and benefits —which run $48.8 million, or $4.7 million more than last year.
"I tell our coaches we have an unlimited budget for achieving championships and receiving incentive-based pay," Brandon said.
Athletic scholarships are projected to cost $19.7 million. Team expenses, projected at $22 million, are increasing because cheerleading is newly under the purview of the athletic department and women's lacrosse is competing for the first time next year.
Brandon also said that a proposal to replace the ice making and maintenance equipment in Yost Ice Arena would come before regents soon. The cost of replacing the aging equipment is between $3.5 million and $5 million, he said.
"It's expensive to make ice," Brandon joked, explaining that seemingly straightforward projects are costly. "People are sometimes amazed with the fact that it costs $6 million to paint Michigan Stadium."
The athletic department is in the midst of $14.3 million in construction projects, with another $341 million in projects planned until 2019, including a new swim center, track stadium and administration building.
"As we move down the road we'll get a little bit crisper in terms of the projects that you've approved," Brandon said. "Those are straw man numbers that give us some sense of the scope and scale of these things."
The department is has $386 million in net assets, a $64 million endowment and $231 million in debt.
Kellie Woodhouse covers higher education for AnnArbor.com. Reach her at kelliewoodhouse@annarbor.com or 734-623-4602 and follow her on twitter.