Posted on
Thu, May 19, 2011 : 8:51 p.m.
Crisler Arena's $52M renovation approved by University of Michigan regents
By Kyle Feldscher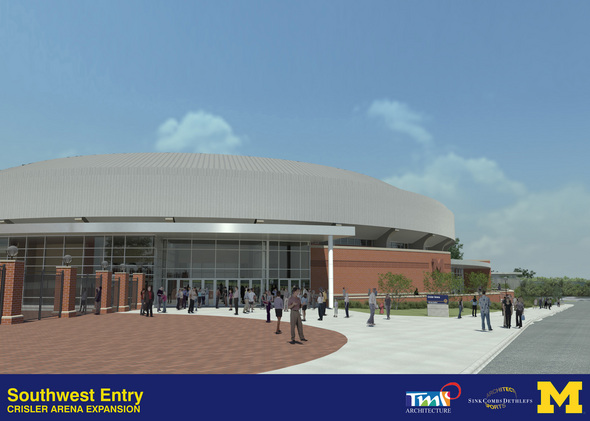 University of Michigan
Designers of the
Crisler Arena
renovation project want the building to glow on game nights no matter how the University of Michigan's basketball teams are playing.
The university's Board of Regents unanimously approved the designs for the $52 million second phase of renovations at their meeting Thursday.
Among the planned renovations are glass entry ways, which will give the building its nighttime glow; more restrooms for both men and women; new concession areas and a waterfall with a glowing blue M.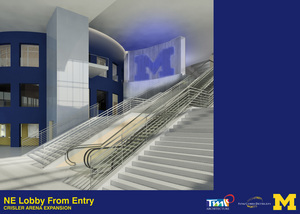 University of Michigan
"As you're coming down Stadium, there will be a glass entry and we're adding a … window so the building will glow at night when there are events," said Don Dethlefs, chief executive officer of Sink Combs Dethlefs, which did the design work. "And it will add natural light so we don't have to use as much energy."
Regents originally approved renovations to the core of Crisler Arena in October 2009. The first phase of renovations cost approximately $20 million. Both phases of the renovation will be paid for with athletic department funds.
The renovations approved Thursday amount to a whole new building wrapping around the existing Crisler Arena.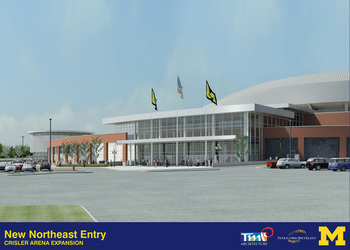 University of Michigan
The designs included renovations of all the building's entryways, including a large lobby area in the northeast corner of the arena, which will have the building's ticketing areas.
Dethlefs said the goal was to make the building "more inviting to people" and make sure they have an enjoyable time at the new Crisler Arena.
In the southeast corner of the building, fans and visitors will see a waterfall lighted up by a glowing blue block M. Dethlefs said the waterfall will serve as a means "to let people know they're at a new Crisler."
The project will add approximately 63,000 square feet to the arena and will include a private club space.
Kyle Feldscher covers K-12 education for AnnArbor.com. He can be reached at kylefeldscher@annarbor.com or you can follow him on Twitter.