Posted on
Wed, Sep 12, 2012 : 12:37 p.m.
U-M officials say campus-wide smoking ban making some progress in breaking cycle of addiction
By Amy Biolchini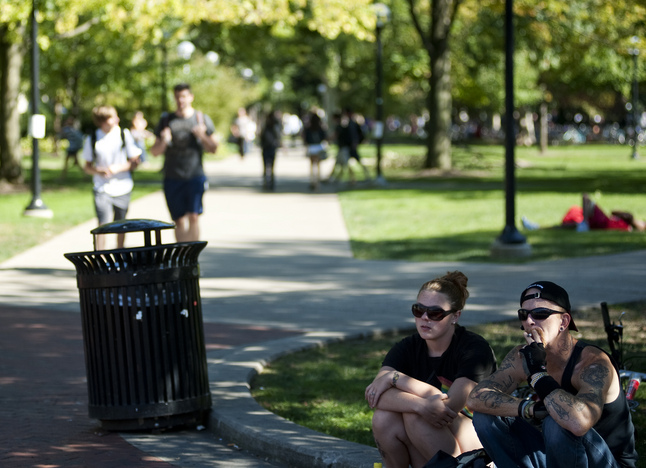 Daniel Brenner I AnnArbor.com
Slightly more than a year since the
University of Michigan
implemented a no-smoking policy
on its campus, reactions are mixed when evaluating the effectiveness of the policy.
Administrators formally launched the policy in July 2011 with a slew of signs and informational marketing to let faculty, staff, students and visitors know campus was not a place to light up.
Wednesday afternoon, the campus will be host to federal officials as they announce the nationwide launch of a tobacco-free college campus initiative.
A quick survey of U-M's main campus at the beginning of the second academic year with the smoking ban in effect reveals ashtrays and other disposal containers have disappeared from sidewalks, but cigarette butts have not.
It's legal for students and staff to smoke on the curbs of public streets - but most students have interpreted the ban to mean the edge of campus.
Tuesday afternoon at the south end of the Diag where it meets South University, smokers congregated at the same spot near a trash can to finish their cigarettes if they were walking on to campus, or to light up if they were leaving.
Marina Haque, 18, a sophomore biology major, said when the smoking ban was first put into effect on campus when she started attending U-M, "no smoking" signs were everywhere.
This year is different.
Amy Biolchini | AnnArbor.com
"I haven't seen a sign in a while," Haque said.
The ban hasn't changed very much in terms of student behavior, Ali said.
"I wouldn't know if there was a ban," said Aamina Ali, 19, a sophomore business major.
Often non-students that visit the campus and travel across it act as though the smoking ban doesn't apply to them, Ali said.
About 12.3 percent of Washtenaw County adults smoke, and 20 percent describe themselves as former smokers, according to a 2010 survey by Washtenaw County Public Health.
The same survey found that one-quarter of Washtenaw County adults that smoke are students.
Lena Matthias Gray, smoke-free environment coordinator for MHealthy, said the university is working on another campaign to remind those who live, work and pass through U-M's campus that there's a smoking ban in effect.
There are "hot spots" around the campus where smokers still flock that are known to both the administrators and students - mainly outside of university libraries.
"If a student has been studying for a long time and they're a smoker, some of the students will challenge the policy and go around the side of the building," said Dr. Robert Winfield, U-M's chief health officer who helped create the no-smoking policy.
Courtesy of U-M
"We have seen what appears to be a frequency decrease in smoking among students, faculty and staff," Winfield said.
Surveys conducted by the university in 2007 and 2009 revealed that about 14 percent of undergraduate students admitted to having a cigarette in the past month, Winfield said.
In 2011, that percentage had dropped to 9.2, Winfield said.
Among faculty and staff, Winfield said the university's surveys also have indicated a behavior change.
"We've seen a lesser but significant decrease in those that are smoking," Winfield said.
As a part of the tobacco-free campus initiative, U-M now offers free smoking cessation services for students, including free over-the-counter generic nicotine patches and gum.
For faculty and staff, U-M offers free counseling as well as $100 incentives if an employee attempts to quit, Winfield said. Employees can receive generic nicotine patches, lozenges and gum for a $5 co-pay, and can receive other nicotine-replacement drugs on their benefits plan.
About 265 employees have taken advantage of the smoking cessation services offered by U-M, said Teresa Herzog Mourad, manager of tobacco consultation and alcohol management for MHealthy.
"A lot of people have to quit several times, and we really want to support those folks with replacement products and other ways to cope with stress," Herzog Mourad said.
Simply having a no-smoking policy in the workplace has proven to lower the rate of tobacco use in general, and the campus policy has meant some employees have decided to quit altogether, Herzog Mourad said.
Though tickets are not used to enforce the policy, students do receive warnings and reprimands should complaints be made about their activity.
Winfield said he knows of one instance where a student who had been smoking on campus was brought into the office of student conflict resolution to deal with the problem, and certain situations where supervisors have spoken to staff members about their smoking habits.
The goal of the policy is to help people quit through education and support, Herzog Mourad said.
Electronic cigarettes are not banned on campus, but are at the U-M Health System, which has a slightly stricter version of the tobacco-free policy in place. UMHS employees cannot arrive to work smelling like cigarette smoke.
John Calvin, 30, of Ypsilanti, was visiting U-M's campus Tuesday afternoon to greet his girlfriend after work. Sitting in the grass under a shady tree on campus along North University Avenue, Calvin said he can't stand the smell of cigarette smoke.
Though he supports the campus-wide ban, Calvin speculated on measuring the effectiveness of the order on an individual's health.
The kind of addiction to smoking found in individuals that are career-smokers isn't something that can be stopped with a simple ban, Calvin said.
In addition to campus libraries, along State Street and on U-M's North Campus, people feel more free to smoke, said Andy Chang, 19, a sophomore computer science major at U-M.
Chang stopped for a smoke Tuesday afternoon at the south end of the Diag, where he borrowed a lighter from a woman who was smoking while sitting on a nearby wall.
The area on the edge of campus is another popular spot where people stop to smoke -- ironically, many times taking a seat on a bench right in front of a "no smoking" sign that has been posted by the university.
When it comes to the ban itself, nobody really cares, Chang said.
Living in a university residence hall as a freshman, Chang said he received a warning from his resident assistant after someone complained about him smoking outside of his dorm.
The warning meant he had to write an essay on the subject, but it didn't end up deterring him from smoking. The ban is just as symbolic as having to be 21 to drink, Chang said.
At home in Hong Kong, Chang said smoking is discouraged in a different way: Cigarettes are too expensive to smoke incessantly there.
While on campus, Chang said he tries to find less crowded places to light up, but noted it was an addiction.
"We have the urge," he said.
Amy Biolchini covers Washtenaw County, health and environmental issues for AnnArbor.com. Reach her at (734) 623-2552, amybiolchini@annarbor.com or on Twitter.