Posted on
Wed, Nov 2, 2011 : 12:47 p.m.
U-M classroom building in the dark as workers try to restore power
By Kellie Woodhouse
Classes at the University of Michigan's East Hall have been canceled due to a power outage that workers say won't be fixed until 7 p.m. today.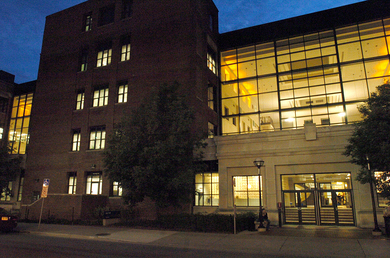 AnnArbor.com file photo
Several buildings on U-M's central campus lost power for more than an hour today due to a DTE power outage, said Diane Brown, spokeswoman for the U-M Police Department.
But while most buildings affected by the power outage —which hit at about 10:05 a.m.—had their power restored by noon, East Hall likely won't have power for the rest of the day, Brown said. Crews estimate a 7 p.m. power restoration.
"East Hall will remain out ... (for) most of the rest of the day until repairs can be made at a substation inside the building," Brown said.
Brown said it is unclear whether the substation malfunction is related to the power outage. She said that at least six or seven buildings on central campus were affected by the outage and lost power for about an hour. Additionally, several other buildings on or near central campus lost power for "a few seconds."
In some cases, classes meeting in rooms or auditoriums without windows had to be evacuated, Brown said.
"It all depends on their lighting situation," Brown said.
East Hall is affiliated with the school of Literature, Sciences and Arts and houses the mathematics and psychology departments. Generators were moved to the site to keep certain areas functioning, U-M officials said.
Until power is restored, the building is closed to students. While classes have been canceled, two exams have been relocated.
ECON 102 section 100: 6-8 p.m. in 1324 East Hall - now held in 1400 Modern Languages Building (AUD 4 MLB).

ECON 102 section 100 - extra time: 6-10 p.m. in 1068 East Hall - now held in 260 Dennison Building.
Kellie Woodhouse covers higher education for AnnArbor.com. Reach her at kelliewoodhouse@annarbor.com or 734-623-4602 and follow her on twitter.