Posted on
Tue, Oct 12, 2010 : 6:03 a.m.
University of Michigan considering plan to close Main Street near Michigan Stadium on game days
By David Jesse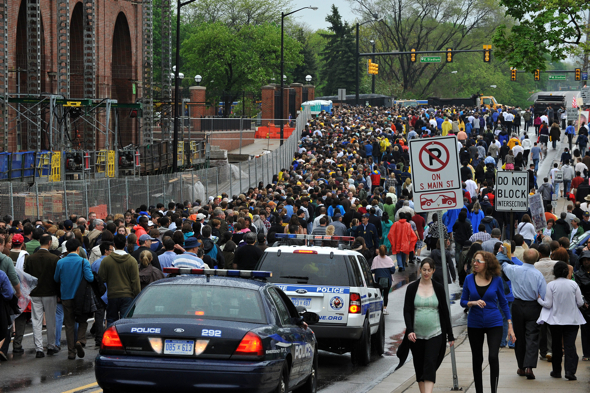 A plan to further protect Michigan Stadium from a potential terrorist attack during a football game could mean completely closing Main Street for five blocks for several hours before and after the game.
That plan, which will be presented to stadium neighbors Wednesday night, would also prohibit cars from turning onto Main Street from Stadium Boulevard during those times and includes closing other streets right around the stadium.
It could be in place as soon as Michigan's home football games in November, but also could take until next year to be put in place, U-M police spokeswoman Diane Brown said.
"This plan is being made to reduce the potential for vehicle-borne bombs or attacks," she said, adding police believe the moves will work as a deterrent for anyone looking to attack the site.
The plan comes out of a comprehensive vulnerability assessment conducted by U-M police, the U.S. Department of Homeland Security and other local police agencies.
"They had a number of recommendations for us to implement," Brown said. She said the review also supported recent moves like banning bottles and bags from the stadium.
The plan would:
Close Main Street to all traffic from Stadium Boulevard to Pauline Boulevard.
Close Keech Street between Main and Greene streets.
Limit access to parking permit holders on Green Street from Hoover to Keech streets.
Close the westbound right-turn lane on Stadium Boulevard onto Main Street.
"Vehicle access from the neighborhood streets onto the closed area of Main Street would be either prohibited or restricted at police-controlled access points, depending on the street, to accommodate people needing ingress or egress to properties fronting Main Street that have no side-street access," Jim Kosteva, U-M's director of community relations, said in an e-mail to stadium neighbors. "The closed portion of these streets will remain available for pedestrian use and emergency vehicle response to the area."
Mary Rand lives in the neighborhood to the west of the stadium. She said she thinks closing off the area isn't a bad idea, but added congestion through her neighborhood is going to get worse.
"I think you're going to see more people going down streets like Edgewood to get off Stadium once they realize they can't get onto Main Street. It's just going to be more hassle and more traffic," she said. "I understand why they are doing it, but wonder about the logistics off it. Will they put officers in the neighborhood to direct traffic?"
Brown said the proposal calls for the parking restrictions to be in place for all home football games, but other events at the stadium would be handled on a case-by-case basis. She said it may be in place for the Big Chill hockey game, but not necessarily for charity runs that end at the stadium. Similar restrictions were in place when President Barack Obama spoke at commencement.
Events at Crisler Arena, which is located next to the stadium, would also be evaluated on a case-by-case basis, including looking at who the featured guest is at an event.
Brown said the university is looking for feedback on the plan at the Wednesday night meeting, which will be held at 7 p.m. at the Junge Family Champions Center.
David Jesse covers higher education for AnnArbor.com. He can be reached at davidjesse@annarbor.com or at 734-623-2534.