Posted on
Fri, Mar 29, 2013 : 9:39 a.m.
U-M hosts Origin of Life Symposium; Ann Arbor YMCA opens new office in Ypsilanti, registers kids for day camp
By AnnArbor.com Staff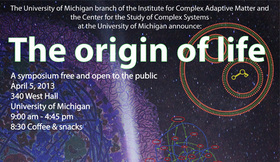 From a University of Michigan symposium on the origin of life to the Ann Arbor YMCA opening a new office in Ypsilanti, here's a roundup of some of the stories posted on AnnArbor.com's Community Wall this week:

By: Susan Carpenter: The Origin of Life Symposium
The University of Michigan branch of the Institute for Complex Adaptive Matter and the Center for the Study of Complex Systems at the University of Michigan announce: The Origin of Life Symposium. The Symposium is free and open to the public and will be held on April 5.
By: Jan Hack: Ann Arbor YMCA Will Open New Office In Ypsilanti On April 1, Will Celebrate With Ypsilanti Camp Registration Event: April 1, 4-7 p.m.

The Ann Arbor YMCA will hold a registration event for Ypsilanti Day Camp at their new office in Ypsilanti, located within St. Luke's Episcopal Church, 120 North Huron Street.
By: Bob Nassauer: Free Event: Public Mental Health Services and Supports: Due Process, Appeals, Grievances, Definition of Medical Necessity"
By: Faith Medical Clinic: Faith Medical Clinic 'Rises from The Ashes'
By: Chris Kochmanski: Early Registration Discount for Summer Day Camps at Daycroft Montessori School of Ann Arbor Ends This Saturday
By: FreedomSpeech: Special Report: Tony Blair Urged to Attend Bohemian Grove Ritual
By: NorthMaple: Pipe Burst at UM North Quad
By: Dawn Farm Education Series: Adolescents,, alcohol and other drugs - what can parents do?
AnnArbor.com's Community Wall is a spot for local people to post local stories, news and announcements. To post a story, sign in to AnnArbor.com, then go to www.annarbor.com/community and use the Got News? Tell Us function at the top to submit your news. If you have a photo to add, e-mail it to us at community@annarbor.com, and we'll insert it into your story.