Posted on
Tue, Nov 20, 2012 : 5:29 p.m.
University of Michigan medical professor in the middle of $276M insider-trading case
By Amy Biolchini
A University of Michigan Medical School professor is in the middle of what federal investigators are calling the most lucrative insider-trading scheme they've ever prosecuted, according to media reports.
Dr. Sid Gilman, a professor of neurology at U-M and an Alzheimer's expert, was charged Tuesday in a suit by the Securities and Exchange Commission, according to a Forbes report.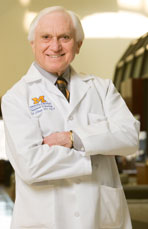 Courtesy U-M
While serving as the chairman of the committee overseeing the clinical trial for a new Alzheimer's drug, Gilman allegedly gave "material, nonpublic information" about the trial from 2006 and 2008 to
Mathew Martoma
, a former portfolio manager at CR Intrinsic Investors,
according to the Wall Street Journal
.
Gilman also allegedly gave Martoma the final results of the trial before results were publicly announced July 2008, the Wall Street Journal reported. The trial's outcome was not positive, and Elan Pharmaceuticals and Wyeth, the corporate backers, killed the development of the drug before it hit the final phase. Wyeth has since been acquired by Pfizer.
According to the Forbes report, Gilman gave Martoma information regarding the clinical trial about July 17, 2008 and the study's results were publicly announced July 29, 2008.
Martoma has been charged by federal prosecutors with securities fraud for allegedly using information about the clinical trial results to trade shares in advance of the publicly announced trial results, Forbes reported. Investment advisers and hedge funds have reportedly made more than $276 million in illegal profits or avoided losses from the advance trade.
Gilman's lawyer, Marc Mukasey, told The Associated Press his client is cooperating with the SEC and the US Attorney's Office, and has entered into a non-prosecution agreement with federal prosecutors.
At the time, Gilman was working as a paid consultant for an expert network firm and not legally or technically representing the University of Michigan, said Pete Barkey, spokesman for the University of Michigan Health System.
UMHS declined comment initially, but will be issuing a statement, Barkey said.
Gilman is the director of the Michigan Alzheimer's Disease Research Center at the U-M Medical School. He served as the chairman of U-M's Department of Neurology from 1977 to 2004, and is past president of the American Neurological Association.
Amy Biolchini covers Washtenaw County, health and environmental issues for AnnArbor.com. Reach her at (734) 623-2552, amybiolchini@annarbor.com or on Twitter.