Posted on
Mon, Dec 5, 2011 : 5:58 a.m.
U-M Medical School admissions shaking things up with social media
By Kellie Woodhouse
If you applied to the University of Michigan Medical School this year, there's a good chance you could get your acceptance letter hand delivered.
That is, if you're accepted.
Fewer than 6 percent of applicants will be.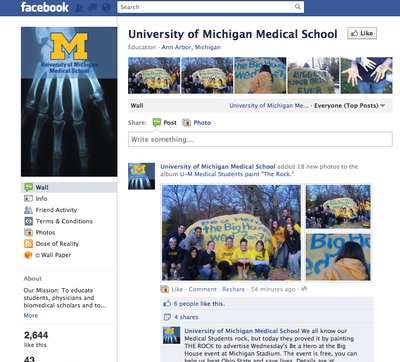 Officials at the Ann Arbor school have hit the road and hand delivered acceptance letters to students in Dallas, Boston, Washington, D.C., and East Lansing. Admitted Ann Arbor applicants also received in-person acceptances.
'It's about having a little bit of fun with an otherwise stressful process," said medical school admissions director Robert Ruiz.
School officials were already in those cities for conferences and school business, but Ruiz thought it would be good for the school to maximize its resources and brighten the day of an unsuspecting admit.
Hand-delivered acceptance letters are just one way that U-M's medical school is trying to stand out among other top-flight schools.
Ruiz is heavily invested in social media.
The school has an active admissions Twitter account and a Facebook page solely for admitted students. On that page, the school posts questions, tips and polls to keep admits connected to the school and updated on deadlines. Admitted students also get electronic birthday cards emailed to them on their birthday.
"That allows us to engage them," Ruiz said. "So they're getting a much better sense much earlier of who we are as a community."
The medical school accepts applicants on a rolling basis. Applicants that haven't been accepted or denied get text, Twitter and email updates about the school's admissions process.
The school holds regular online chats to answer applicants' questions. Ruiz says the chats and social media make the application process, which can be intimidating, easier on potential students, who spend significant money on the application and, if granted an interview, travel to the school.
Lisa Rudgers, U-M's vice president for global communications, is in the midst of a hunt for U-M's first social media director. She says such a position will enable U-M to develop an organized social media presence, thus facilitating "more timely and personal engagement with stakeholders," as she believes the medical school has done.
Rudgers says the medical school has been "way in front" of other schools and colleges in embracing social media.
"Universities are talking to and communicating with younger audiences," Rutgers said. "And for younger audiences, social media are the platforms."
Ruiz says that embracing social media is one of the reasons that applications for the 2012-2013 class are up 7 percent from last year so far.
"The social media stuff is helping, to be honest," Ruiz said of the large applicant pool. "We really want people to understand the value of the Michigan brand."
The school is expecting more than 6,000 applications for 170 spots this year. Only roughly 350 students will be offered application.
By mid-November, the school received 250 applications more than it had by mid-November 2010.
"It makes a challenge for the admission committee," Ruiz said. "This isn't a matter of choosing good people over bad, this is a matter of choosing increadly great people among great people."
Ruiz says that while social media isn't the only reason applications are up, he admits it's a significant one. He said that the school's top 10 ranking has played a part in the increase.
The medical school, however, slipped four spots in U.S. News and World Report rankings from 2011 to 2012. U-M's medical school is currently ranked 10th in the nation for research —down from sixth in 2011— and 20th for primary care instruction, according to U.S. News and World Report rankings.
Kellie Woodhouse covers higher education for AnnArbor.com. Reach her at kelliewoodhouse@annarbor.com or 734-623-4602 and follow her on twitter.