Posted on
Wed, Sep 19, 2012 : 2:08 p.m.
U-M Medical School to host service in memory of anatomical gift donors
By Amy Biolchini
The University of Michigan Medical School will be honoring those that have donated their bodies to science in a memorial service 6 p.m. Wednesday at Rackham Auditorium in Ann Arbor.
The ceremony includes remarks by medical students for the families of those who have given anatomical gifts to medical education and research, and usually is attended by about 1,000 people, said Dean Mueller, coordinator of the Anatomical Donations Program at U-M.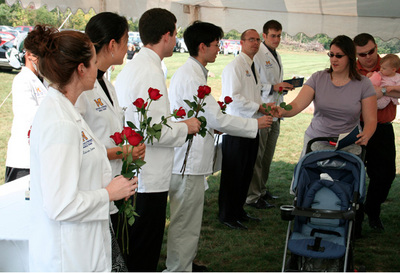 Courtesy of U-M
"It's a way to say thank you to the donors and the donor's families for what they've done," Mueller said.
The Medical School receives about 300 anatomical gifts per year, and has been hosting the memorial ceremony annually in September since the first anatomical gift donations to the university were recorded in 1817 - before the formation of the medical school.
About 7,000 people have pre-registered to donate their bodies to the program, Mueller said. The next of kin also can determine if they want to donate a body to the program.
Med students wear their white lab coats during the ceremony and are able to connect with the families of the people who donated their bodies. The students also are very involved with the planning and execution of the event, Mueller said.
"There's sadness and laughter, and a great appreciation for what goes on," Mueller said.
Amy Biolchini covers Washtenaw County, health and environmental issues for AnnArbor.com. Reach her at (734) 623-2552, amybiolchini@annarbor.com or on Twitter.